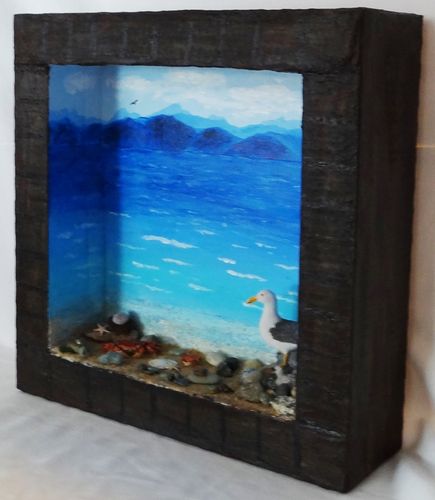 This a shadow box that I have made myself. At the back, I painted a seascape and at the bottom of the box, I put a resin seagull, a couple of small real crabs, some stones, little pieces of wood, and other things you can find at the beach, all resting on sand. It is not covered with glass.

Voici une boîte que j'ai faite moi-même. À l'arrière-plan, j'y ai peint un paysage reflétant la mer et les montagnes et le bas de cette boîte est couvert de sable. J'y ai ajouté un goéland, une couple de vrais petits crabes, des petites roches, une couple de petits morceaux de bois, tout ce que vous pourriez trouver sur une plage. Cette boîte n'est pas couverte de vitre.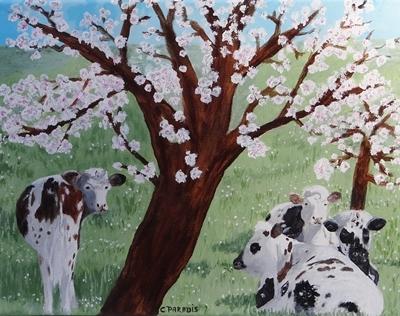 "Cows of Normandy" brought me a lot pleasure when I painted it. I hope you'll love it as much as I do. It measures about 12" x 14".

J'ai eu beaucoup de plaisir � peindre "Les Vaches de Normandie". J'esp�re que vous l'aimerez aussi. Cette toile mesure environ 12" x 14".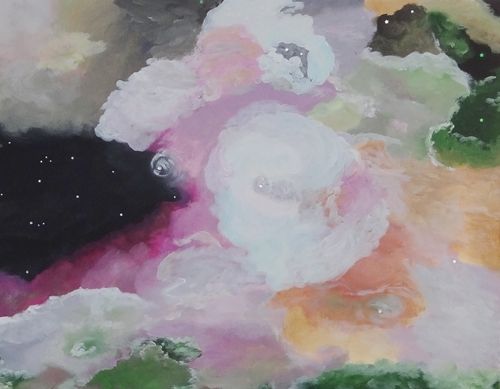 "Mystery of the Universe" is a 16" x 20" acrylic painting that represents a small piece of the universe that is so mysterious to all of us.

"Myst�re de l'univers" est une toile � l'acrylique de 16" x 20" repr�sentant une petite partie de l'univers qui est si myst�rieux pour chacun de nous.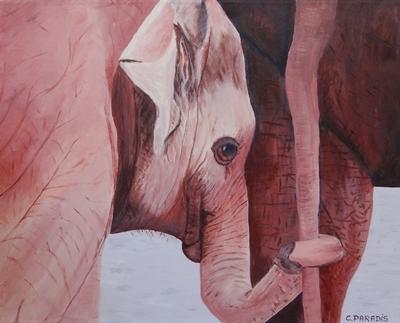 "I'm Right Here Mommy" says the little elephant holding on to his mommy's tail so that he won't get lost. This painting measures 16" x 20".

"Je suis tout pr�s de toi maman", semble dire le petit �l�phant qui s'attache � la queue de sa maman pour ne pas se perdre. Cette toile mesure 16" x 20".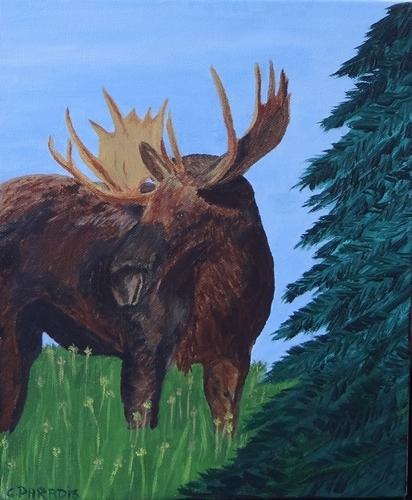 "Looking Back" to see if there are any hunters ready for the kill. This painting measures about 10" x 14".

"Regardant derri�re lui" pour voir si quelque chasseur se pr�pare � lui faire sauter la cervelle. Cette toile mesure environ 10" x 14".