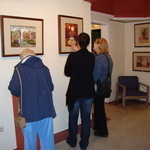 The Nanaimo South Art and Craft Tour consists of the following artists:

Jonanco Hobby Workshop - Linda Addison manager
Arctic Artists Gallery - Fredrick & Lyle Trimble
Art With Blooms - Donna Wilk
Rich Williams Studios - Rich & Diane Williams
Dogwood Ridge Farms - soap making with goat milk
The Alpaca Boys of the Gun Barrel - all natural alpaca & wool spinning & dyeing

Please contact us if you are interested in participating in the tour.

Art work includes Oil, Watercolour, Mixed Media & Acrylic Paintings, Botanic Collage Art, Aboriginal Art, Art Prints, Art Cards, Bookmarks, Stone, Wood & Bone Carving, Lapidary Art, Fibre Art.
Nanaimo South: an area starting just south of downtown offering scenic beauty, winding mountain driving, ocean views, artist studios and BC attractions such as Petroglyph Park, Wild Play Bungee Jumping, and Extension Miners Community Park.

Enjoy the drive, meet the artists, view their creative output and seize the opportunity to purchase creative and fine art!