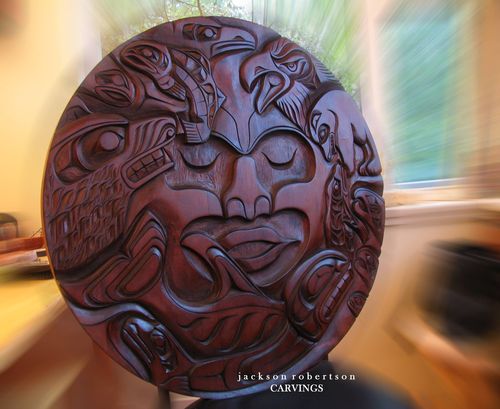 WELCOME to Nanaimo's own
Northwest Coast Kwakitul Carvings Official Web Page
as well as Please View our Facebook Online Gallery at
https://www.facebook.com/OfficialMarketingSales/

Featuring Artisan Mr. Jackson Ford Robertson Pacific Northwest Coast Kwakwaka'wakw Art

Firstly, Kwakwaka'wakw art is one of the most distinctive forms of northwest coast art. Kwakwaka'wakw artists have always been among the most innovative artists on the coast, using an individualized approach to expression and form and colours that go beyond the traditional.

Being 100% Kwakwaka'wakw, Jackson Robertson is from the Tsawataineuk First Nation located at the northern tip of Vancouver Island in a small village they call Kingcome Inlet BC.

Jackson is a 5th generation Carver and after 45 years of carving he is considered a 'master carver' From a very early age, he moved to Nanaimo to live with his grandparents and extended family. His uncles were all accomplished carvers and so by age 14 Jackson had already learned how to carves masks, bowls and talking sticks and plaques. The rest is history. Carving designs came easy and Jackson soon found his niche and continuity in the traditional world of carving legends and characters from his culture and Potlatch traditions.
To carve is to give joy to others through a piece of art that embodies meaning and cultural significance and his art will continue to live on from generation to generation.

Distinct Representation

Mythological Beings

BOLD,

STYLIZED,

ABSTRACT

Jackson has over the years accumulated a body of work that has been sold worldwide, many of which are bought by Local Collectors and tourists from Canada, the U.S., and around the world !

Above photo- 2" x 34" round panel Wild Woman ($5K)
Many Round panels are sold by commission at 50% down.
All orders are subject to additional shipping and handling charges.
Please Contact for more Info.
Please contact through email or messenger (Facebook site) to speak to and discuss your custom design !

Basic single animal totem 1" x 6" x 12" thick : $250
Basic single animal totem 2" x 12"x 12" thick: $350
sample of 1x6x12 " see photo $275 each has additional totem
Western White or Yellow Cedar 'stained' PLAQUES


All plaques are stained and polished with traditional red mahogany stain.
Clear finish choose Mineral Oil - natural clear coat enhances grain

Paint - colour application of traditional red and black is extra $25.00
Abalone price range is $5.00 to $20.00 - New Zealand abalone used for 'eyes' price according to size,


'Quote' on Shipping cost is given at time of Order
Canada Post shipping charges: $25 - $35 for small packages of either Silver or small plaque.
Shipping price increases depending on weight/size and destination
Service = Canada Post / UPS / Purolator



Jackson Robertson Sterling Silver Jewellery - 925. sterling silver is high quality Real 925 sterling silver jewelry consists of 92.5 percent pure silver and the rest in some kind of alloy, typically copper. All silver design is original and authentic and is never cast or molded.

Rings
wrap ring size 1/2 inch to 1 " start at $250 to $300 bird/animal depending on Man / Woman size The larger the size ring i.e.: 13 the more silver required i.e.: $500 the higher the price. thank you
Whale, Bear, Raven, Eagle or Hummingbird and more...

Pendants
2"x1.5" $250 bird/animal
2"x2" $300 bird/animal
Whale, Bear, Raven, Eagle or Hummingbird and more...

Bracelets
Baby $80 (1/4 ")
1/2" $250 to $350+ one or more bird/animals, Ovoid, Dart and Split U
1 " $375 to $500 + one or more bird/animals, Ovoid, Dart and Split U more lines
Whale, Bear, Raven, Eagle or Hummingbird and more...
ROUND PANELS available anytime!

20" - 22" - 24" - 28" - 34" - 40" diameter x 1 inch thickness
single design of moon face starts $999 up to complex mythical $4,500

Price reflects design theme and complexity of overall design on or artist freestyle choice of design.

Paint - traditional red and black is $50 extra
Abalone - New Zealand abalone used for 'eyes' $20 each

Shipping - estimated at $60 to $300
Option - 50% deposit with 2 or 3 month plan 60-90 days

Photo: 22" Moon Raven with Sun, Hummingbird with flower and Eagle with abalone eyes Round $2500
Photo: Jackson holding 36" Moon with 6 totems
Photo: 5 foot Killer Whale Red cedar Sold

Contact Us for Invoice & payment method
We accept E Transfer & Paypal
Pay Pal pay in U.S.D.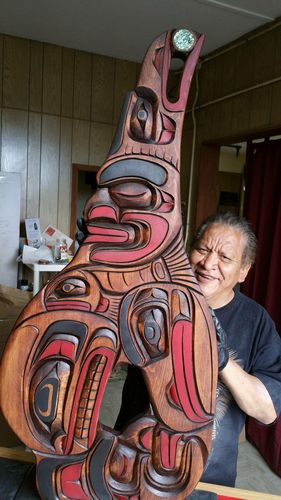 photo : Killer Whale with Wild Woman




Distinct Representation

Mythological Beings

BOLD, STYLIZED, ABSTRACT


Canada, U.S.A., International Sales

More photos to be seen at
Northwest Coast Kwakiutl Carvings FACEBOOK

'LIKE' and FOLLOW us at https://www.facebook.com/NanaimoShorelineDr