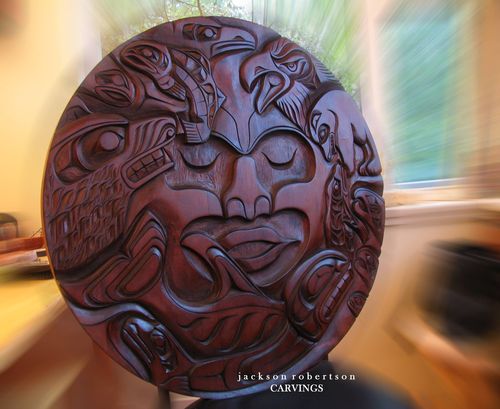 Northwest Coast Kwakiutl Carvings

Distinct Representation

Mythological Beings

BOLD,

STYLIZED,

ABSTRACT

Master Carver, Jackson Robertson
has been carving yellow and red cedar for over 40 years.

His First Nation affiliation
is the Tsawataineuk First Nation from
Kingcome Inlet BC

Currently on the BC Artisan catalogue
and candidate for the BC Creative Achievement Award for First Nations Art
in the field of traditional and contemporary carving ....having successfully met the criteria and lifetime commitment to his Art /
having accumulated a body of work that has been sold worldwide,
many of which are bought and sold by
collectors, tourists and from galleries in Canada and the U.S.

Above photo- 34" round panel Wild Woman, sold $4000.
These wall panels are sold by commission at 50% down. All orders are subject to additional shipping and handling charges. Please Contact for more Info.


plaque prices:
12 x 6x1 $150
18 x 6x2 $275
customer pays shipping, typically Canada Post $25 and up depending on weight/size

paint and abalone inlays are extra

Please inquire for pricing.

Your choice from list below.
1. bear
2. otter
3 eagle
4 owl
5 frog
6 wild woman
7 shark
8 wolf
9 humming bird
10 whale Orca
11 raven
12 salmon tail up
13 heron
14 beaver
15 thunderbird
16. salmon
17. hawk
18. turtle
19 mythological beings - sea wolf, sea bear, sea eagle, thunderbird, sisiutl, lighting snake



New Pricing List for OCTOBER Yellow Cedar Rounds

2 sizes 24" x 1.5" thick
5 available at $1500
28""x1.5" thick or larger
milled by order $2800

DESIGN
Moon with 7 ravens (shown)
24" diameter 1.5"round have sold at $1500
Will accept 2 & 3 PAYMENTS

Moon with 6 totem animals see pic below
36" or larger diameter 2" round
UP AROUND $3500 - $4000

Large Rounds are 60-90 days
34" diameter 2" or LARGER round $3000
40" diameter x 2" $6000

Traditional Colours are Red and Black Add $50
Abalone extra $50
Shipping NOT included
expect $50 to $300

Contact to discuss Larger size and any custom design.
Photo: 36" custom Sold

Contact Us for Invoice & payment method
We accept Cash, Email Interac, Paypal, and Square M/C VISA ( in person)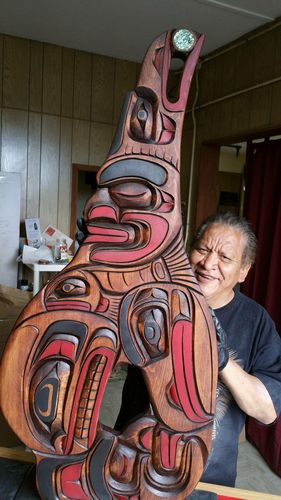 photo : SOLD 2nd Can be Ordered
4 ft 23x2 yellow cedar Tsonokwa or Wild Woman Kwakwaka'wakw)
Killer Whale

Add shipping outside BC


Distinct Representation

Mythological Beings

BOLD, STYLIZED, ABSTRACT


CANADA WIDE SHIPPING with Canada Post


Have something in mind that you haven't seen before?
WHOLESALE for bulk orders
(minimum order of 25 +)
5 designs x 5 for 25 plaques or 2 of each etc...available upon request
Must be legitimate gallery to order wholesale.
More photos to be seen at
Northwest Coast Kwakiutl Carvings FACEBOOK

'LIKE' us at
www.facebook.com/OfficialMarketingSales/

thank you for your interest and continued support!