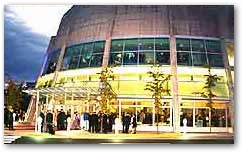 For the past thirty years, volunteers and community organizations had been steadily working towards the dream of building a professionally equipped performing arts theatre in Nanaimo that would serve the residents and visitors of the Central Vancouver Island region. On September 9, 1998, this dream became a reality when the new $12.9 million, 800-seat PORT THEATRE opened it's doors to the public for the first time.

Located on Nanaimo's breathtaking waterfront at 125 Front Street, next to the Coast Bastion Inn, The Port Theatre is designed as a multipurpose facility that brings in a variety of local and top touring performing arts groups, including acoustic and amplified music, drama, comedy, symphony, musical theatre, children's entertainers as well as conferences and symposia. Over 125,000 people are expected to attend some 250 events each year. The Port Theatre has sweeping views of Nanaimo's scenic harbor and the Strait of Georgia beyond. The building's use of wood, concrete, stucco and glass reflects the elements of the water, mountains and forest that compose the Island's natural environment. The theatre serves as a focal point for redevelopment in downtown Nanaimo, a city of 80,000 on the central coast of Vancouver Island. Already receiving national acclaim for it's superb acoustics and intimate style, The Port Theatre was recently invited into the prestigious International Theatre Architecture Exhibition, The Prague Quandrennail.

Nanaimo's beautiful 800-seat theatre is ideal for keynote speakers.

Our lobby area is ideal for trade shows, exhibit booths and receptions up to 700. To book your event, call Sandra Thomson at 250-754-4555.


TAKE A TOONIE TOUR OF THE THEATRE THIS SUMMER!

Do you have guest from out of town you would like to bring for a tour? Are you a first time buyer and want to peak into the theatre and backstage? Have you been meaning to see The Port Theatre but haven't yet?

From July 10th - August 25th, Monday to Friday at 11:00 am, a staff member of The Port Theatre will give guided tours of The Port Theatre. Just come to the theatre lobby and be our guest! A minimum donation of $2 is appreciated.

We invite you to take a peek into the theatre and tour the backstage, hear the history and other interesting details.

A staff member of The Port Theatre will give you behind the scenes information and answer your questions during a wonderful 30 minute tour of The Port Theatre

Just arrive by 11:00 am, Monday to Friday in The Port Theatre lobby. A minimum donation of $2 is appreciated.