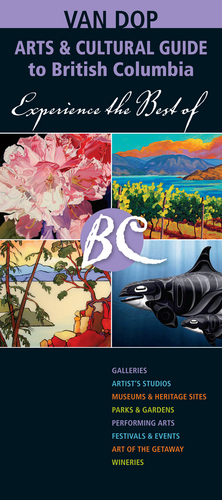 VAN DOP ARTS & CULTURAL GUIDE TO BC
www.art-bc.com

The 11th Annual Arts & Cultural Guide to BC is back to lead you through this fabulous province where you're guaranteed to find some of the most talented artists in the world!

It's the only comprehensive, year-round guide of its kind, and includes everything you need to know about the province's visual and performing arts, historical sites, museums, festivals, special events, and more!

Whether you've always lived in BC, you're new to the province, or you're visiting for the first time, the guide promises many wonderful surprises … some may be in another region of the province, others across town, and it's quite possible some are just around the corner!

Whatever the case, the Arts & Cultural Guide to BC celebrates the spirit of the people and the geographic diversity that make the art of BC so unique!

All of the participants look forward to your visit, so be sure to mention you found them using the guide or our web site, and enjoy the art of your journey!

Don't forget to visit the online guide at www.art-bc.com and Welcome to Super Cultural BC!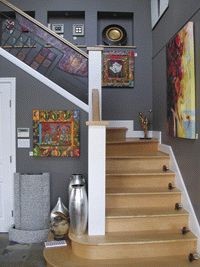 THE VAN DOP GALLERY

Beautiful gardens surround the gallery and offer visitors the extraordinary experience of seeing works of art indoors and out. Showcasing over 100 Canadian artists, in ceramic, glass, wood, metal fibre and other media. We cordially invite you to experience the truly unique and special place that is the Van Dop Gallery.