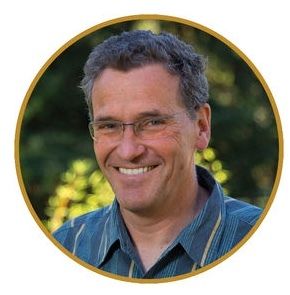 Meet the Artist:
"ONLY a clear MIND with a clear PERCEPTION being a clear CHANNEL is able to facilitate such tasks!"
Detlef -Joe- Friede (MCH), is a Certified Master Clinical Hypnotherapist, gifted & guided quantum healing practitioner using techniques of CCMBA & Ho' Oponopono, Reiki, Axiatonal Alignment Procedures,NLP, EFT, TAT, etc with stunning and thrilling experiences about spiritual pathways and " Miracle " healing.
He studied for many Years with members of the White Brotherhood, world renowned Dr. Sharon Forrest and Christine Kollofrath as well as late Canadian Hypnosis Icon Diana B. Cherry, and many others. He was able to help thousands of people over the Years, including victims of MKUltra and WAR related traumas.

Besides having those gifts and abilities as well as serious track records as a hypnosis facilitator, on "earthly" professional level, Detlef as an Art teacher of this kind, is President for Canadian Hypnotherapist Association (CHA, http://www.canadianhypnotherapyassociation.ca) and Founder of "Oceanside Art of Hypnosis and Energy Healing Education Centre".
He holds a 2nd degree black belt in Martial Arts (Ju Jutsu) including 25+ successful Years in coaching as well as many achievements as a professional trumpet player/musician/ recording artist and experienced business man/ ret. first responding BC Fire Fighter.
Like any kind of ART, it's all about the skill set.... so it does not matter if you look at Martial Arts, music, or painting.... the individual practice and performance makes all the differences!

Detlef is working 2 days a week, Monday & Tuesdays in Vancouver/ Kitsilano @
Angel Hands Wellness Clinic
Suite 201 – 1416 West 8th avenue, Vancouver, Kitsilano
V6H 1C9
Call 604.558.1926, or email info@angelhands.ca
or book online a session @ www.angelhands.ca
and all over in British Columbia and Alberta (mainly Calgary at this point)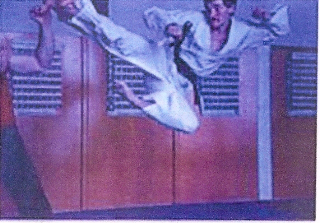 It is in general simple how it all works: Energy follows thought!!
Once we realize that our bodies are nothing other than physical manifestation of our nonphysical selves (the "MIND"=22g of our body weight), we will understand they are obedient servants of our mind, and they move and have their being according to the vibratory rate of our minds!
It is that simple and complex at the same time! .... What I am facilitating is in no books at this point and I am not working by any book, I have a way better SOURCE!

The ART of Hypnosis is very effective in addressing the mind/body connection in healing. The way I am applying the ART of Hypnosis is effective in working with:

Past Life Regression
Future Life Progression
Life between lives
Connecting to Source/ Akashic Records/ Council
Earth plane departure & pain management
Energetic removal of amnesic barriers
AIDS
Musculoskeletal disorders
Auto Immune Disease
Skin Disorders
Reproductive Disorders
Cancer
Fear based physical body challenges and conditions
Anxiety and Stress
Spiritual awakening in trance
Specialized Victim services i.e event processing, removal, healing
De - programming, anchor & event processing
Mind & physical Body healing
Fear and phobias
Motivation
Karmic and negative implanted thought forms
Post traumatic syndrome
Conflict resolutions/ anger processing
Extreme stress management
Spiritual development in trance
Re-incarnation hypnosis
Mind over matter
Become a better ....sports, business,...
Weight loss/ gain
Addiction resolutions

Upon special request I am available for
Motivational group Hypnosis
Special tailored company incentives
Conventions
ONLY a clear MIND with a clear PERCEPTION being a clear CHANNEL is able to facilitate such tasks!


Testimonies:
Detlef Friede is a force of nature. He has worked with my clients to clear money issues, my children to help them learn to focus on their studies and with me to assist with health challenges. I have referred many friends who needed support to remove obstacles to achievement of their most prized life goals. He knows his stuff. Detlef is mature, trustworthy and knowledgeable. And with his diverse background and experience you know you are in good hands.

Tracy Theemes, MA, CFP, FMA, FCSI Financial Advisor

Dear Detlef,
I wanted to send you an e-mail to thank you for the healing I had
received at Dr.Terrie's office a few months ago. Since then, life has
completely changed for me. I am receiving blessings and confirmations
on a daily basis. Seeing, hearing and feeling signs from angels, the
universe and God. I am still a little fearful, as this is hard to
explain as there is no logical answers for any of it. Fear of being
labeled "Crazy". I have been reading and meditating to ground myself
and try to stay level. The last few weeks have been like watching a
huge puzzle come together.... I know why I had been "different" as a
child. Now I understand why have have the utmost love and compassion
in my heart, regardless of the many horrific experiences I have had
thru the years. I know I am destined to be a wounded healer. I have
started to see a sort of glow from my hands, see orbs, feel a divine
presence with me : Archangel Michael, Raphael, and a female ( not sure
who. yet. ) always ready to help. This must sound crazy... I have
started to learn how to heal myself. A few willing and supportive
friends have volunteered as well. I now desire to continue to grow
spiritually for the greater good. And since making that life decision,
many blessing have followed. Do you have any advice for me while on
this journey ?

Thank you again for helping me. I am eternally grateful to you and the
divine power you channel.

Kindest Regards,
S. M.

Well... Where do I start?

My daughter (10 years old) had been "off" for.. well lets just say most of her life. She was just nasty to deal with ... angry, hard to handle, verbally abusive, didn't want to be hugged or held. It was brutal. Sometimes I thought it would tear the family apart.

I took her to doctors ... I took parenting courses.. counselling.. all with the same result -- NOTHING! We believed there was a mental issue. I heard about Dr. Terrie from another counsellor we had been seeing at her school. We had a session with Dr. Terrie. It was good. Really good. Dr. Terrie suggested that my daughter would benefit from Hypnosis. I said "Lets give it a shot" I had nothing to loose at this point.. and a daughter to gain!

We met with Joe about a week later. He was great. He talked to us about what was going to happen and if she felt unconfortable at any point, well... she was in control. Loved it! He did what was called a age regression. He took her back "year by year" through her life. She did great. At first.. I thought.. hmmm.. really? Really.. could anything happen. How could it ?

My daughter "came to" looked at me and smiled. She smiled at me!! Oh wait..... one other thing.. maybe the most important thing.. just before he awoke her.. he said " It's all ok..... anything unhappy are in the trash" He basically talked to her like a father would, talking to his own daughter. I remember him saying these things... I will never forget.

He talked with us for a bit. She left the room so we could talk. He said I would see something within a couple of days. Still, I am thinking... really.. did she even sleep?

It makes me cry when I remember the days after that therapy. My daughter was re-born! She is an absolute doll. This Wednesday (April 21st) we are taking her to DisneyLand. Prior to this session.. it was only a dream. A scary dream at that point. Now a reality. She is happy... fun.. caring.. LOVING... gentle... oh my gosh... she is MY DAUGHTER!!! I love this little angel more and more every day. It is so hard to explain what happened.. But please let me tell you ... whatever it was.. it was a god send.

We have told everyone we know about this. I myself even went for a session with Joe. Again, something you have to experience. It was something else. Something I will never forget.

Thank you Joe.. Thank you Dr. Terrie..

I have a life time left with my daughter... this to my family means the world. Disneyland.. With my daughter! Once a dream.. today a reality.

Forever and ever grateful....
M. H.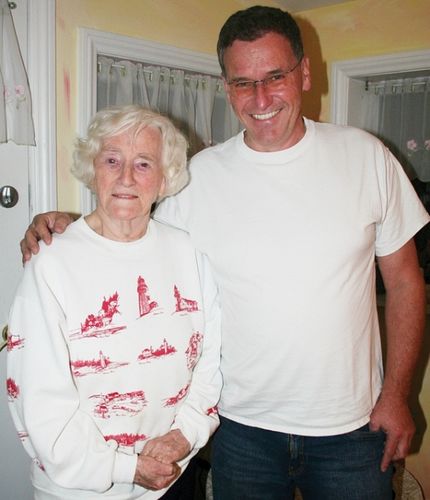 Above: myself with Canadian Hypnosis Icon Diana Cherry (Vancouver, BC)

What I can do for you as a facilitator or teacher of this Art:

"You cannot solve a problem from the same consciousness that created it. You must learn to see the world anew."

-Albert Einstein.

The Art of Hypnosis was practiced in healing successfully even before the time of Jesus Christ and throughout all following Centuries. The medical aspect of it is the main focus. There is no mystic in "miracle" healing, it's simply a mix of Hypnosis and CCMBA/ energy channeling! In most cases it is possible to find, identify and directly work instantly on any energetic blocks or health conditions.

How Does it work?
The self healing abilities of a human body and it's intelligence are incredible. In principle: Through Hypnosis (or being in THETA/ trance) the human brain activities are slowed down, which opens the doors for communications between the facilitator and your subconscious mind, which operates all of your body parts such as chakras, organs, bio chemicals and all other functions. The main focus of any first session is to identify ones individual needs and possible healing pathways and simply process all health influencing life experiences, which are in most cases emotional based and MIND decoded stored energies!

Philosophy and code of Ethics
Hypnosis is one pillar and opportunity among todays' available healing modalities. The Art of Hypnosis is violently miss used throughout history. One who has hidden agendas or unresolved personal issues should never use those techniques to access ones Mind. It's pretty simple, folks, only the one who is the true light, obeying the divine rules/ philosophy/ Universal laws and the code of ethics can be connected to Source and do miracles in healing - especially in times of complete global shifting....

Why does it work
When you remember that you have the power within you to make new choices and change your perspective, you are in control of the only thing in life you'll ever truly control: your own choices for responses. Highly recommended is Lynn McTaggart's book: "The Intention Experiment" for more on latest scientific research on healing, quantum physics, results and proof.

What I don't do or provide
Practitioners of Hypnosis do not treat medical disorders, that's the business of FDA and the medical trained professionals. I personally do not compete with any profession, practitioner or existing system and I do not perform ego driven shows in public or in personal sessions, neither do I respond to negativity or arrogance in business.
I do not build up false hope in the name of profit and I do not promise "miracle healing". I can help when asked. And ... yes, there are (and always have been) people on this planet who are connected to the divine and who are the true light....

My commitment
As an Artis using Hypnosis, I am committed to work and help on subconscious levels. Believe it or not: I got placed on this pathway, to help people in need. History and latest scientific research (i.e Dr. Bruce Lipton, Gregg Braden, Lynn McTaggart,...,...,) tells us very well, what is possible and what can be achieved on one's healing journey....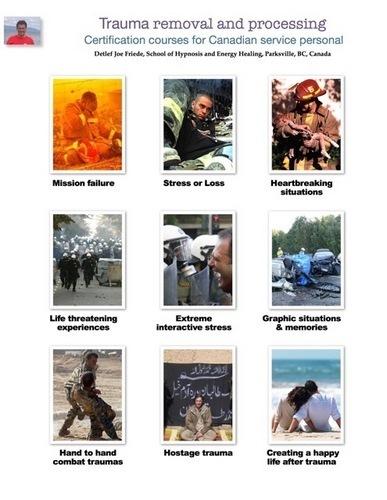 German Ju Jutsu Systems:
Life without Fear - a self defence system based on German Police and Law Enforcement principles developed and provided by Founders and Instructors:
Jeremy Buerge and Detlef - Joe- Friede

When there is no chance to escape a violent confrontation..
we can show you methods to create your personal mental switchboard for
-effectively survival and dealing with violent confrontations
-changing into a "warrior mood"
-getting into a mindset of an Olympic athlete in seconds
-a complete subconscious self defense mood and response
-raising your awareness level
-shortening your response time
-reading offenders' vibrations and levels of aggression or violence
-realistic situation assessment
-getting control during self defense situations
-dealing with tactical aspects of self defense
-getting adrenalin production and heartbeat controlled
-stress reduction
-self-confidence & self-esteem
-discipline
-getting your body and subconscious mind connected during stressful - situations

On physical level, our program "Life without fear - Ju Jutsu German style" involves the usage of strikes, blocks, throws and take downs, locks, leavers, mounts, bars, kicks, kata, weapons and competition. The portion of taught physical skills make up perhaps 50% of the requirement for Ju Jutsu practice; the remaining 50% derive from special tailored mental training.
On mental level, we are able to introduce the individual to subconscious mind exercising, overcoming and processing past happenings/ events or life changing experiences.
Hypnosis is one important pillar and opportunity among todays' available healing or personal development modalities and can be integrated into your personal training program.
Our programs are taught over a platform of agility, coordination, discipline, explosive power, dynamic mobility and whole body endurance.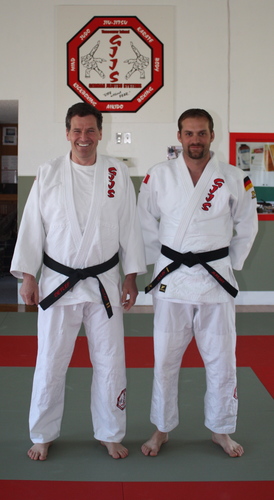 Detlef (left) with his buddy and partner Jeremy Buerge @ Vancouver Island German Ju Jutsu dojo (2007 - 2012)