British Columbia Travel Guide

The unofficial BC Travel & Tourism Guide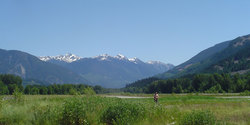 Set deep within the Coast Mountains just 20 minutes past the resort of Whistler, the Pemberton Valley is a rarity. Dramatic glaciated mountains tower above the village, including Mount Currie with its stunning prominence, but the valley is broad and fertile and very warm in summer. Known especially for its seed potatoes, the Pemberton Valley is becoming renowned for organic produce, meats, coffee roasting, slow food, and even vodka. Pemberton is infused with a strong sense of community and local spirit, but its proximity to Whistler makes it an excellent place to live for those who work in the famous resort but prefer a more laid-back lifestyle. The Pemberton Valley is populated by a rich mix of entrepreneurs, farmers, and hard-core outdoor recreationalists.



Pemberton is situated at the western side of the Duffey Lake Road, which parts of Highway 99. The road ascends and cuts through the Coast Mountains from the rain forest to the dry desert interior at the town of Lillooet. From there, travellers can return to Vancouver via the Fraser Canyon.


The downtown of Pemberton is distinctive for its old-west storefront appearance. Accommodations include hotels, including the charming Pemberton Hotel, built in 1914, as well as motels, B&B's, hostels, RV parks and campgrounds, and luxury lodges. Pemberton offers options for corporate retreats and an excellent array of eateries, from simple cafes to fine dining.

Many adventure tour outfitters listed in Whistler actually base operations out of Pemberton. Summertime recreation includes magnificent hiking and camping, especially in Joffre Lakes. This magnificent area of jagged peaks, ice fields, rushing streams and turquoise blue lakes is a class A provincial park. The alpine setting also offers challenging mountaineering. Fishing, jet boating and rafting, as well as paragliding, scenic flights and gliding, and two world-class golf courses, round out the fantastic outdoor recreation offered in Pemberton. Meager Creek Hot Springs, renowned for their healing waters, are situated northwest of the town.

In winter, Pemberton is blessed by Pacific storms that dump huge quantities of snow on the surrounding Coast Mountains. Pemberton is a natural for all those who love snow sports. It is a world-class ski touring base and offers helicopter skiing, snowmobile operations, and cat skiing with backcountry mountain lodging. Whistler's downhill skiing is only 20 minutes away.

To get to Pemberton, drive the Sea to Sky Highway 99 north from Vancouver to Whistler and continue for another 20 minutes.
Pemberton Accommodations
Pemberton Things to Do