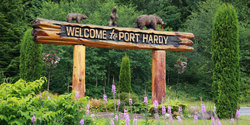 Photo: Carla Funk
Traditional fishing has been a staple along the West Coast shores of British Columbia. The commercial fishing industry was established with the huge hype around the islands primed fishing grounds. Known as "Coho Country", charters have since taken the lead among the regions expanding tourism industry offering world class fishing of salmon ( Chinook, Coho, Sockeye; Pink, and Chum ), Halibut, Red Snapper, Rock Fish, Sea Bass, Crab, trout, steelhead, and cutthroat to name a few.


Additionally, the charters monitor shores and take tours out to greet the large orca whales, which pass through the Johnstone Strait, to locations where these beautiful creatures enjoy sinking to the bottom of the ocean floor to rub their backs on the large stones.

Outdoor hiking, kayaking and wilderness adventures are enjoyed in Port Hardy year round. Every level of walking, hiking or trekking cover the trails in the forests around the heart of Port Hardy. Walking guides are available at tourist information.

For families or couples there are plenty of group activities to participate in such as; Curling, Indoor Mini-Golf, Bowling, Darts, Badminton, Martial Arts, Tai Chi, and Dancing.

Getting to Port Hardy on Vancouver Island can be accessible by traveling south on BC Ferries from Prince Rupert, north from Vancouver by air, or south along the island highway from Nanaimo or Victoria Ferry terminals (a longer island tour route).

Population: 5,000+

Highlights:
Carrot Park - welcome to Port Hardy
Totem Locations throughout the City
Local Native Carvers
U'mista Cultural Center
Annual festival celebrating First Nations Culture: Indian Summer Games (Sept)
Artlish Caves - local guides available
Mt. Cain - close to Port Hardy offers two T-Bars and a rope tow for skiing
Nimpkish Valley & Lake
Market Street Souvenirs & Galleries
Chain Saw Carvings
Tour of Murals
Port Hardy Museum & Archives
Beachcombing
Shellfish Harvesting
Storey's Beach - perfect for swimming & sandcastle building
Tex Lyon Trail - hiking with extreme challenges
Fort Rupert
Quaste River Estuary & Hatchery
Cape Scott Provincial Park (Ronning Gardens is on route)
Raft Cove Provincial Park - body surfing spot
Filomi Days weekend- held the 3rd weekend in July celebrates history & industry

Things To Bring:
Notice: summer months are peak season for the small port town, it is recommended that accommodations and reservations with BC Ferries be made months in advance.

History:
Archaeological evidence indicates that First Nations tribes existed here over 8,000 years ago. Many First Nation band members still reside here and visitors can view carving produced in Southern Kwakiutl art forms.

The first white settlers to the area arrived in 1904. They were Alec and Sarah Lyon, who operated a store and post office on the east side of Hardy Bay.

In 1912, a land deal promoted by the Hardy Bay Land Co. drew new settlers to Port Hardy. The town was named after Vice-Admiral Sir Thomas Masterman Hardy, former captain of H.M.S. Victory.

Climate:
Summer average 19 degrees Celsius
Winter average 2 degrees Celsius


For more information please visit www.ph-chamber.bc.ca
Port Hardy Accommodations
Port Hardy Things to Do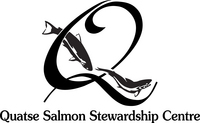 Leap in to Salmon's World! Visit the Salmon Centre and experience the unique exhibits in our interpretive gallery. Take a guided tour of a working wild salmon hatchery. A fun and educational experience for all ages!