Total listings: 2 Showing: 1-2
Page:

[1]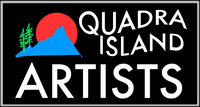 More than 100 artists have made Quadra Island their home. On the first weekend of June every year, some 30 artists open their studios for the annual Artists Studio Tour. Website features a complete listing of artists, musicians, writers and healing arts.

Painter/Poet Ann McLean works in watercolour, acrylic and pastel. She explores different mediums and a variety of subjects. Her work presents a spectrum of diversity and colour, with paintings ranging in size from miniatures to large vibrant acrylics.