British Columbia Travel Guide

The unofficial BC Travel & Tourism Guide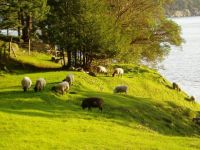 The moderate climate on Saturna Island makes it an ideal year round destination for special retreats or short visits. Saturna features scenic walks, awe-inspiring views, and accessible beaches. The rhythm of island life is a priceless dose of reality and a way for visitors to get in touch with the natural pace of life.


The parks, great forest trails, coursing waves and beach settings enliven travelers and create the perfect spots for kayaking, hiking, long walks, divine sunsets, wilderness picnics, and wildlife viewing. The Gulf Islands National Park Reserve protects many plant species found nowhere else, including; the gnarled Garry Oak and Red-barked arbutus trees.

Experience local wine, art and galleries for a real introduction to the talented artists and producers of this quaint community.

Arriving by sailboat or charter also permits visitors the luxury of circumnavigating the island and the Reserve's smaller off shore islands or reefs where seals, sea lions, fish, salmon, porpoises, and whales frequent.

Saturna Island, the smallest populated island of all the major Gulf Islands, can offer travelers the basic of needs, as well as charters, kayak or bicycle rentals and tours are available at local providers.

Visitors can reach the island by private boat, water taxi, float plane, and vehicle ferries with access out of Tsawwassen on the Mainland and Swartz Bay on Vancouver Island.

Population: 350

Highlights:
Veruna Bay
East Point Regional Park - Orca viewing
Russell Reef Provincial Park - swimming and tidal pools
Thomson Park
Taylor Point - old stone quarry, accessible from beach by kayak or boat.
Mount Warburton Pike - panoramic views
Lyall Creek
Lamb Barbeque - most celebrated community event held Canada Day, July 1.


Things To Bring:
Note: there are no public campgrounds and no outdoor fires permitted. Remove all trash off the island when you depart. When cycling, also take heed, that helmets are required. There are no banks on the island, the stores however offer debit machine payments.

History:
First Nations people inhabited the shores during many months of the year, temporarily during their hunting expeditions along the coast for thousands of years. Still today the 'Indian Reserve' is protected here.

The Saturna Island, in 1791, was first explored by Spanish sailors who decided to name the island after their naval schooner (vessel), Santa Saturnina, which initially participated in the discovery of the Strait of Georgia.

Climate:
Summer average 18 degrees Celsius
Winter average 3 degrees Celsius


For more information please visit www.saturnatourism.com/
Saturna Island Accommodations
Saturna Island Things to Do