British Columbia Travel Guide

The unofficial BC Travel & Tourism Guide

A cultural renaissance has taken place over the last decades and the thriving community is embracing the future and providing opportunity for its 800 plus residents. Once supported largely through logging and fishing, the village is now deeply involved in ecotourism and cultural-related works including the world-renowned Haida artwork.
Highlights:
Visitors can enjoy the quiet community, picnic on the beach and view marine life, watch carvers at work create totem poles and carvings from giant cedar logs in the carving-shed, visit the Haida Gwaii museum or take a fishing charter or cultural land tour. Inspired by a visit to this thriving community, visitors can explore the rich marine and terrestrial life of the Queen Charlotte Islands. From high cliffs that face the pounding surf of the north Pacific, to long beaches, rugged mountains and verdant forests, there is plenty to discover. Whatever you chose, Skidigate, with its relatively mild, marine climate, is a wonderful place to stop.
History:
After the devastation wrought by smallpox in the early 19th century, the Haida people from various parts of the island were reduced to a population of about 500, and slowly moved to Skidigate. The name is an anglicized version of the Haida word Sgiidagids and the community includes descendants from all over the southern island, each with their own chiefs, crests, stories and histories.
Skidegate Accommodations
Skidegate Things to Do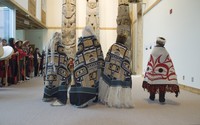 Haida Heritage Centre at Kaay Llnagaay