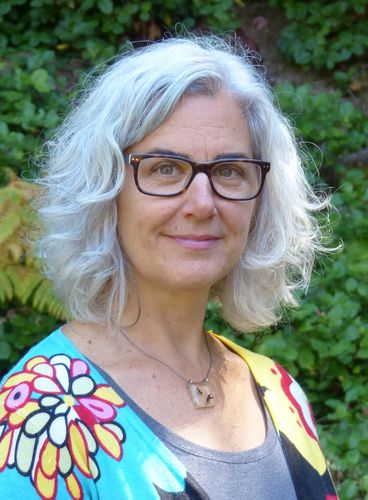 Fur or feathers, hooves or paws, from her own four-legged companions to the wild creatures she encounters, animals and birds fascinate this life-long British Columbia artist and fuel her creative passion. She has been making art since she could first hold a pencil and is known for both her realistic coloured pencil drawings and her lively paintings on silk.

Deborah holds a Fine Arts diploma from the University of the Fraser Valley, is a senior signature member of the Federation of Canadian Artists (SFCA), and has an extensive exhibition record encompassing the local, regional and national levels. Her Mayne Island art studio is her primary creative space and she maintains a live/work studio in the White Rock area of the Lower Mainland. She is currently the president of the Southern Gulf Islands Arts Council. Deborah currently shares her life with Hugo the cat and a mischievous cocker spaniel named Lily.
Coloured Pencil Drawings

Highly detailed and technically accurate, Deborah's coloured pencil drawings reflect her interest in animals and the natural world, with a particular focus on birds. Her drawing "Solitary Steller's Jay", pictured above, was awarded first prize at the Coloured Pencil Society of Canada's exhibition (2012)

Silk Paintings

Deborah's lively silk paintings are sometimes described as "whimsical" and, as with all her art, focus on animals and nature. It's an unusual medium with some of the qualities of watercolour but with a lot more "oomph". The translucent silk fibres make the colourful dyes sing!
Pictured above: "Horse of Another Colour", available in prints and art cards.
Animal Portraits

For more than 25 years Deborah has been creating lifelike portraits of dogs, cats and horses, to the delight and satisfaction of her clients. Her goal is always to capture the animal's physical appearance and infuse it with spirit. Her cat Archie, pictured above, is a fine example of her work.