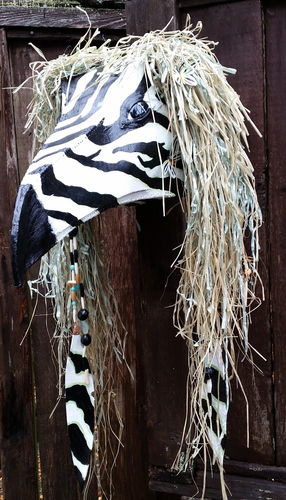 Being raised in Saskatchewan and the Yukon Territories, Meghan has been influenced by native culture throughout her life. She is touched by raw art, there is something extraordinarily deep, thoughtful and expressive in the delivery of old art forms.

Because she was quite ill as a baby, Meghan was delayed in her learning and became a contented child watching life around her. Trying to understand the natural order of her life, she was told not to expect what other people did but find her own parameters, that there was much more to her picture than the different scenes being played out in front of her.

Meghan is introspective and open to beauty as well as the complexity and systems of nature. Her journey has been filled with unique twists and turns and a lot of bumps. Art has been her peace, helping her receive foresight when she needed it and her inspiration. Her masks are about life journeys, emotions and dreams.

"Warrior's Wisdom"

Warrior's Wisdom represents the ability to move forward with strength, knowledge and wisdom. Â The mask is a spirit bird shape and has the markings of the zebra, representing a horse. Â The Spirit Bird is able to see not only obstacles ahead but opportunities as well. The horse is also able to take you to your future destiny knowing what lay's ahead.

Warrior's Wisdom sent a clear message to me as I created him, to move forward in life armed with power and passion. Â Your intrinsic self comes from a place of power from within.

 Medium: leather, raffia, agate, acrylic, stain and beads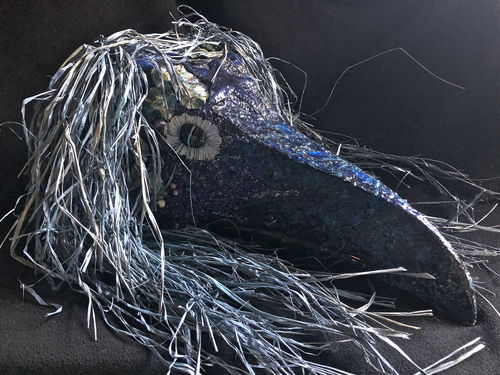 I have found myself inspired by the deep psychological
and sensitive areas in one's life. The life lessons we all
face in one time or another, as well as the need to
overcome and the drive to make ideas and dreams real
are also very symbolic to my art.



"Warrior's Reflection",

It takes courage to be completely honest with self. The inner journey above the waters surface brings the familiar excitement of what is to come, the inner journey below and in the depths of emotion brings unexpected awareness, enlightened consciousness, and freedom to just be.

Journey well!
 Medium: leather, raffia, agate, acrylic, stain
Students create a 3-dimensional Salmon Masks using their imagination, creativity and dexterity they will explore design, transfer and create a meaningful piece of art that is uniquely theirs.

Students learn about the life cycle of the salmon. This project is specifically designed to enlighten students of the importance of preserving our watersheds and the impact of our footprint.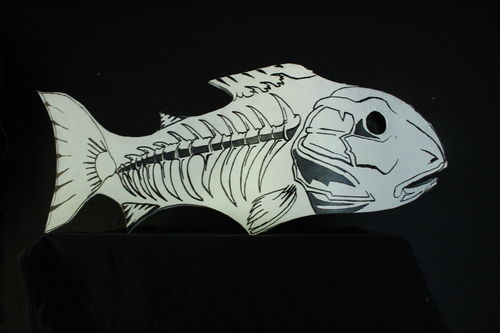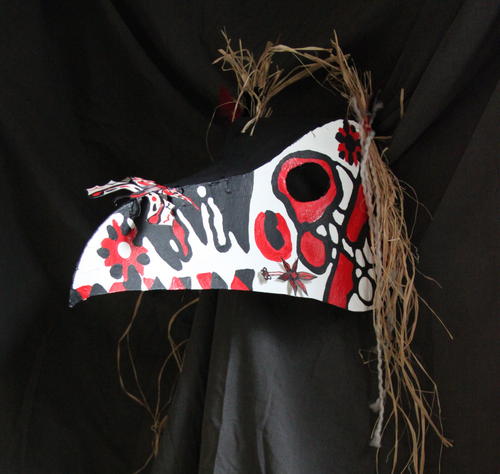 "The Spirit of Me" was created to heighten one's awareness, enrich their thinking and purpose.

There are three purposes for the entire process of the program: to nourish the mind with positive thoughts and empowerment, to challenge their own creative expectations and motivate them to excel while offering opportunities to find their own strengths, and teach students to learn about their character through self discovery and self awareness.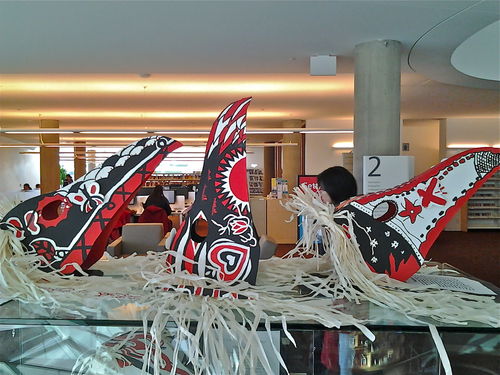 The Spirit Of Me

Each mask created becomes the student's story and their power of expression thus achieving self awareness, perspective and a greater sense of pride. Â Besides creating the mask, each student is required to write an artist statement of their journey.

Grades: 6-12, including LSS-ESL and adult classes

Subjects this class can be used in: Visual Arts, Health& Career, Language Arts as well as Social Studies.

http://www.artistsincanada.com/graphics/aic.gif