Saturday Apr 26, 2014 - Sunday Apr 27, 2014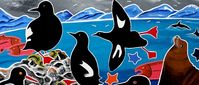 Welcome to the 15th Annual Oak Bay Artists' Spring Studio Tour
Saturday and Sunday, April 26 & 27, Noon - 4:30 pm
A self guided free event presented by Recreation Oak Bay
Visit the artists of Oak Bay in their home studios during the Oak Bay Artists' Spring Studio Tour. Enjoy talking with the artists about their process and inspiration in the creation of handmade jewellery, hand painted porcelain, printmaking, paintings, photography, art cards and more, on this free self-guided tour. Walk, bike or drive the beautiful streets of Oak Bay for the kick off to the Studio Tour season, and a favourite for attendees.
Perhaps bring a unique piece home with you, along with your memories of this art filled event.
Participating Members:
Please click on the member name to get more information.
1
Victor Lotto Artist, Victor Lotto


2605 Cotswold Road, Victoria, BC

3
claire christinel


2347 Hamiota St., Victoria, BC

4
Avis Rasmussen


2576 Estevan Avenue, Victoria, BC

5
Anne Hansen, Anne Hansen


2260 Dalhousie St., Victoria, BC

10
Flo-Elle Watson


1871 St. Ann Street, Victoria, BC

14
Red Art Gallery, Marion Evamy


2249 Oak Bay Avenue, Victoria, BC

17
Marie-Andree Fine Art Studio, Marie-Andree Allison


962 Island Road, Victoria, BC
Click on 14th Annual Oak Bay Artists' Studio Spring Tour - Booklet to print this tour as a PDF file. (Adobe Acrobat reader is required to print this file)

Other Participants:
Pam Stonehouse
Jean Betts
Caryl Peters
Ron Douglas
Imke Pearson
Bonnie-Anne Goodwin
Sandi Madsen
Margaret Case
Joan Turner
Joanie McCorry
Robert Amos
Maggie Owen
Jennifer McIntyre
Christine Gollner
Joseph E.L. Gollner
Bruce Vallance
Myrna Germaine-Brown
Marny Stevenson

Contact Info: