Saturday May 09, 2015 - Sunday May 10, 2015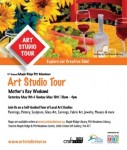 Saturday and Sunday
May 9 & 10th, 2015
10 am to 4 pm
Welcome to the 17th Annual Maple Ridge and Pitt Meadows Art Studio Tour. Our self-guided tour of local studios offers a unique opportunity for the public to visit artists in their studios, gain insight into their creative process, work environment and provide the chance to purchase works of Art directly from the artist.
The tour is being held for the 17th year and has proven hugely popular in past years. It includes paintings in all media, pottery, sculpture, ceramics, ceramic sculptures, jewelry, functional art, assemblage art, yard art and more.
Look for the RED DIAMOND sign at each location. Maps and information available at various locations around town, Maple Ridge Pitt Meadows Tourism Office, Maple Ridge Library and on our website: www.ArtStudioTour.ca
Check us our on Facebook too
Participating Members:
Please click on the member name to get more information.
Click on 16th Annual Maple Ridge/Pitt Meadows Art Studio Tour - Booklet to print this tour as a PDF file. (Adobe Acrobat reader is required to print this file)

Other Participants:
Alexandra Lazarotta studio #16
Brigitta Schneiter studio #18
Bruce Rothe studio #11
Claire Louise Stephen studio #21
Connie-Jean Moore studio #7
Dale Sharp studio studio #9
Derrien Kilsby and Terry Severinski studio #3
Dianna Veenhof studio #14
donnae bell studio #5
Fiona McQuillan studio #19
Gail Purdy studio #4
Galina Cooper studio #13
Jack Prasad studio #10
Jacqueline Sheridan studio #12
Jane McKay studio #8
Jeska Slater studio #20
Jessie Brennan studio #20
Joie Pare studio #7
Kerry McLaren studio #5
Lapidary Club studio #15
Linda Reedman studio #2
Mark Tigges studio #17
Mike Stewart studio #18
Neil Hamelin studio #6
Sandy Bridal studio #14
Suzanne Amedolagine studio #1
Contact Info: