Sunday Mar 27, 2016 - Sunday Mar 27, 2016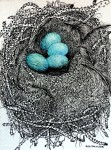 Walk, bike or drive South Pender Island's daffodil-lined roads to see what our artists have created over the winter months.
Participating studios are marked with daffodil-yellow balloons; maps at each studio. Enter at each studio for a chance to win an Easter basket of gifts from participating South Pender artists.
Participating Members:
Please click on the member name to get more information.
Click on 17th Annual South Pender Easter Art Walk Easter Sunday, March 27, noon to 5 pm - Booklet to print this tour as a PDF file. (Adobe Acrobat reader is required to print this file)

Other Participants:
Sea Glass Studio Workshop - Dana McConchie
Wendy Hacking Glass Art
Printworks - Don Goedbloed
Steven Sass Studio - Mimi Fujino
Heather Duncan
Dorset Norwich-Young Art Studio
Carol Davidson
JEMS - Janet Blakeley
Mira Fabric Arts - Mira Petrie

Contact Info: