Saturday Oct 06, 2012 - Sunday Oct 07, 2012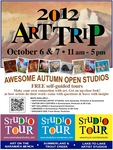 Visit any of the studios throughout the fall or on OCTOBER 6 & 7 from 11:00am to 5:00pm, pick up a map at the Visitor Info Centres in Summerland, Penticton, Naramata, OK Falls and Oliver or just print out yourself!
The ART TRIP is a free self guided driving tour that will create a memorable day or two. The adventure begins with you, just circle the studios you think will be most interesting, invite a friend and go for your tour. Take a break for lunch at one of the valley's amazing wineries or cafes and then carry on to more art studios, see as many as you like. You can start again the next day and go to a different area. Bring the kids, it's a nice way to expose them to the arts.
The ART TRIP is a unique opportunity to see up close and personal how artists work, ask them questions and learn about the stories behind the art. You'll see places you never knew existed and you might discover a new favorite artist. Learn how jewellery is made, see a sculptor at work, a blacksmith's fire, or a piece of wood turned into a bowl. Watch the printing process of t-shirts, see a potter throwing clay or a photographer's cameras and techniques. You can go into a clothing designer's studio or see how glass is fused into beautiful objects and watch an artist make magic happen with wax, pastels or paint on canvas, paper or fabric.
Participating Members:
Please click on the member name to get more information.
1
Delong Studio, Anita Delong


4420 Williams Ave., Trout Creek, BC

2
Bill Hibberd Fine Art, Bill Hibberd


916 Johnson Street, Trout Creek, BC

7
Will Enns


114 Jewell Place Summerland, BC

11
indulgences...because you deserve them, Susan Scott


13216 Henry Avenue, Summerland, BC

13
Stacy Studio, Ron Stacy


14417 Biagioni Ave., Summerland, BC

13
Stacy Studio, Marcia Stacy


14417 Biagioni Ave., Summerland, BC

15
Red Willow Forge, Ted Howell


15803 Industrial Ave., Summerland, BC
Click on 2012 Art Trip - Summerland Studio Tour - Booklet to print this tour as a PDF file. (Adobe Acrobat reader is required to print this file)

Other Participants:
1 • DeLong Studio Silver Jewelry
4420 Williams Ave., Trout Creek YEAR ROUND HOURS : Visitors welcome daily 10-5 pm from April through December. 250-494-5155 www.delongstudio.com delongstudio@gmail.com At DeLong Studio we showc...

2 • Bill Hibberd Studio
916 Johnson Street, Trout Creek YEAR ROUND HOURS: Open by appointment or by chance. 250-494-7892 www.billhibberd.com www.billhibberd.blogspot.com Award winning oil painter, presently splitting his ti...

3 • Calvin R Gallery
2721 Johnson St., Trout Creek YEAR ROUND HOURS: 1-5 Wed to Sun 250-494-0323 Cal & Signe's paintings have a mix of realism and fantasy, from life and imagination. A unique blend of styles in...

4 • Elizabeth Wrobel Photography
1715 Tait Street, Trout Creek YEAR ROUND HOURS: Visitors welcome by appointment or by chance. 250-494-5243 eewrobel@shaw.ca Fine photography on a variety of media including canvas & fabric, framed ...

5 • Roving Poet Studios
Traci-Jo Critchlow 1307 Laidlaw Street, Trout Creek YEAR ROUND HOURS: Visitors welcome by appointment only. 250-494-8410 or 250-462-0616 call 250-494-8410 or 250-462-0616 tracijo@telus.net An ou...

6 • Cherry Tree Quilts
9211 Welsh Avenue, Summerland YEAR ROUND HOURS: Open by appointment or by chance. 250-494-0727 or 250-809-8062 Quilting and fibre art studio, hand dyed fabrics and teacher. www.cherrytreequilts.ca che...

7 • Will Enns Fine Art Studio
114 Jewell Place Summerland. YEAR ROUND HOURS Visitors welcome by appointment or by chance. 250-404-0411 www.willenns.com willenns@shaw.ca

8 • Ingrid Winkler
6600 Hespeler Road, Summerland YEAR ROUND HOURS… visitors welcome by appointment only. Please call ahead. 250-494-1452 Using different techniques and mixed media, Ingrid approaches the landscape throu...

9 • Jean Evanishen
12409 Wright Avenue, Summerland YEAR ROUND HOURS: Open by appointment 250-494-1452 My work is inspired by the Trypillian culture, inhabiting the Ukraine 7000 years ago. With more than 40 years experie...

10 • John Topham Wood Turning
YEAR ROUND HOURS: Visitors welcome by appointment only, please call ahead. 250-494-6434 www.johntopham.squarespace.com dmtopham@telus.net I turn all local hardwoods, the trees that have been discar...

11 • indulgences...because you deserve them
Susan Scott 13216 Henry Avenue, Summerland YEAR ROUND HOURS: Monday to Saturday, 10 am - 5 pm 250-404-0392 Studio/gift shop featuring the signature line of IBYDT Jewellery, one-of-a-kind, unique de...

12 • SASS Textile Studio
Susan Lopatecki 13216 Henry Ave., Summerland YEAR ROUND HOURS: Visitors welcome by appointment or by chance. 250-404-0437 www.sassfashion.com sassdesigns@shaw.ca This is an artisan studio for thos...

13 • Stacy Studios
Stacy Studios Ron Stacy and Marcia Stacy 14417 Biagioni Ave., Summerland YEAR ROUND HOURS: Visitors welcome by appointment or by chance. 250-494-9280 stacystudios@shaw.ca www.stacy...

14 • Sidual T Shirt Printing
Sidual Apparel & Sidual Screenprinting SORRY, CLOSED THANKSGIVING WEEKEND 2012 Stephane Royer 14607 Biagioni Ave., Summerland YEAR ROUND HOURS: Visitors welcome Mon to Fri. 8am - 5 pm 250-494...

15 • Red Willow Forge
Ted Howell 15803 Industrial Ave., Summerland YEAR ROUND HOURS: 7am to 5pm Sunday to Thursday Coffee is always on... 250-494-5267 250-809-4766 www.redwillowforge.com ted@redwillowforge.com Ted H...

16 • Irene Gray Studio
19267 Lakeshore Dr. N., Summerland YEAR ROUND HOURS: Visitors welcome by appointment only, please call ahead. 250-494-2219 i.rene@shaw.ca Pastel and acrylic paintings.

17 • Bruce Crawford Studio
13620 Latimer Ave., Summerland YEAR ROUND HOURS: Visitors welcome by appointment only, please call ahead. 250-494-8903 wbcrawford@shaw.ca A water media artist for 45 years, Bruce paints the Okanag...

Earth Art Pottery
Sorry, not open for 2012 studio tour. Valorie Nielsen pottery Open by appointment, please call ahead. 250-494-8298

Eibnerstudio
Sorry, not open for 2012 studio tour Val Eibner Fused glass/stained glass Open by appointment otherwise. Call ahead at 250-494-1708 veibner@shaw.ca www.glassartcanada.com

Merica Natural Beauty Products and Marion Carrier Fine Art Gallery
Sorry, not open for 2012 studio tour. Watch for Marion at the summer markets. Open by appointment or by chance otherwise. Call250-494-7444

Art Gallery
Community Arts Centre Open Tuesday - Friday 1 pm - 4 pm, and Saturday 10 am - 4 pm http://summerlandarts.com/art-centre/main-gallery
Contact Info: