Sunday May 01, 2011 - Sunday Nov 20, 2011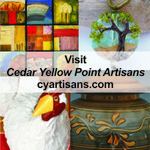 Welcome to the 2011 Cedar Yellow Point self-guided Studio Tour. Our artists and artisans have opened their doors and invite you to visit their studios, shops, galleries and farms - all full of art and superb craft.
There is plenty to discover - and you'll fall in love with the picturesque waterfront and natural beauty of rural Cedar Yellow Point. Wonderful lodgings, pubs, restaurants, parks, rambling country roads and friendly locals are all here - what are you waiting for?
Our participating artisans are:
The Doll House Gift Shop 250-722-3227
Goatwillow Studio www.robinmillan.com
Lohmann Gallery info@lohmanngallery.com
Barton & Leier Gallery www.bartonleiergallery.com
Honeysuckle Gift Cottage tinabonkowski@shaw.ca
Bellhouse Gallery www.pixelmorphics.com
Yellow Point Cranberries www.yellowpointcranberries.com
Strathcona Press www.strathconapress.com
Fredrich's Honey www.beeproducts.ca
JoVic Pottery www.jovicpottery.com
Hazelwood Herb Farm www.hazelwoodherbfarm.com
Participating Members:
Please click on the member name to get more information.
Click on Cedar Yellow Point 2011 Studio Tour - Booklet to print this tour as a PDF file. (Adobe Acrobat reader is required to print this file)


Contact Info: