Saturday Apr 27, 2019 - Sunday Apr 28, 2019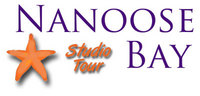 This annual showcase event features the works of Nanoose Bay Studio Tour artists along with a diverse range of guest artists and artisans. It will be held at Nanoose Place, 2925 Northwest Bay Road, Nanoose Bay, BC., which is easily accessible with level entry and ample parking. While this event is free, a small cash donation to Nanoose Community Services would be appreciated.. Hours are 10 am to 4 pm each day.
For more information, please visit our website at www.nanoosebaystudiotour.com, our Facebook page Nanoose Bay Studio Tour
Participating Members:
Please click on the member name to get more information.
1
Phoenix Gallery, Christopher and Jane Smith


8226 Sabre Road, Lantzville, BC

5
Phillips Pottery


2471 Schirra Driver, Nanoose Bay, BC

6
Knut Pottery, Alan Knutson


2550 Powder Point Rd, Nanoose Bay, BC

9
Notch Hill Art, Judith Lapadat


2270 Bosum Drive, Nanoose Bay, BC

14
Vera Dover Canadian West Coast Artist


1578 Marina Way, Nanoose Bay, BC

15
Clay and Brush Studio, Marie Paquette


1372 Pilot Way, Nanoose Bay, BC

17
Red Cod Forge / Affinity Stone Jewelry, Dave & Debra Kasprick


2155 Spurs Place, Nanoose Bay, BC

20
Studio Meredith, Katherine Meredith


3784 Mallard Place, Nanoose Bay, BC
Click on Nanoose Bay Studio Tour 2019 Spring Showcase - Booklet to print this tour as a PDF file. (Adobe Acrobat reader is required to print this file)


Contact Info: