Saturday Dec 01, 2018 - Sunday Dec 02, 2018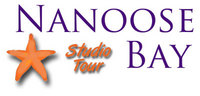 Nanoose Bay artisans and artists once again open their studios for the very popular Christmas Crawl Studio Tour. If you are still looking for that perfect handcrafted gift for someone special then here is your opportunity to visit members of the Nanoose Bay Studio Tour in their studios. This year we have a variety of mediums from oils, acrylic and watercolour paintings and cards, photography, bonsai, pottery, wood, stained glass, soap, glass, jewelry, quilting and fibre. Seventeen studios will be open to the public from 10 am to 4 pm each day and four artists will also be set up at Nanoose Place, 2925 Northwest Bay Road, Nanoose Bay, BC.
Nanoose Place is easily accessible with level entry and ample parking.
For more information, please visit our website at www.nanoosebaystudiotour.com, our Facebook page Nanoose Bay Studio Tour, or contact Pauline Nadeau Evans at sophiedog3397@hotmail.com, Phone: 250-821-6136.
Participating Members:
Please click on the member name to get more information.
1
Phoenix Gallery, Christopher and Jane Smith


8226 Sabre Road, Lantzville, BC

3
Rivers Edge Gallery, Deanna Corrigan


733 Rivers Edge drive, Nanoose Bay, BC

5
Phillips Pottery


2471 Schirra Driver, Nanoose Bay, BC

6
Knut Pottery, Alan Knutson


2550 Powder Point Rd, Nanoose Bay, BC

7
Lee River Wood Turning, Ron Zaborniak


2621 Northwest Bay Road, Nanoose Bay, BC

9
Notch Hill Art, Judith Lapadat


2270 Bosum Drive, Nanoose Bay, BC

14
Vera Dover Canadian West Coast Artist


1578 Marina Way, Nanoose Bay, BC

15
Clay and Brush Studio, Marie Paquette


1372 Pilot Way, Nanoose Bay, BC

17
Red Cod Forge / Affinity Stone Jewelry, Dave & Debra Kasprick


2155 Spurs Place, Nanoose Bay, BC

18
Terri Reid


2449 Evanshire Crescent, Nanoose Bay, BC

20
Studio Meredith, Katherine Meredith


3784 Mallard Place, Nanoose Bay, BC
Click on Nanoose Bay Studio Tour 2018 Christmas Crawl - Booklet to print this tour as a PDF file. (Adobe Acrobat reader is required to print this file)


Contact Info: