Saturday Oct 22, 2016 - Sunday Oct 23, 2016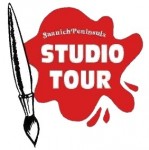 An artistic adventure. An exploration of creativity.
Join us on a self guided tour of artists studios? in Sidney by the Sea,
North and Central Saanich. This is your opportunity to visit and learn
more about the creative process from painters, sculptors, jewellers,
weavers, potters, carvers and more.
Check out their latest works, ask questions, learn more about the artist's
passion and perhaps find a special piece as a memory of your adventure. There
are 26 venues including a winery and more than 36 artists; you'll be sure
to find something of interest.
Studios will be open between 11 am and 4 pm on Saturday and Sunday.
Brochures with map will be available at The Gallery at Tulista Park - 9565
Fifth Street, Sidney, BC
Participating Members:
Please click on the member name to get more information.
9
Mango Smile Studio, Wendy Picken


10131 Pleasant Street, Sidney, BC

10
Island Rain Studio, Wendy Pierson


10214 Pleasant Street, Sidney, BC

12
3Eagles Studio - Graham Scholes, Graham A. Scholes


11435 Hawthorne Place, N. Saanich

14
Barry Tate Gallery of Fine Arts, Barry Tate


11195 Chalet Road, N. Sannich, BC
Click on Saanich Penninsula Studio Tour - Booklet to print this tour as a PDF file. (Adobe Acrobat reader is required to print this file)

Other Participants:
1. Elisabeth Rollins Studio - 9265 Lochside Drive, Sidney, BC
5. Picture Panache - 9715A 2 Street, Sidney, BC
7. Ethereal Earth Fantasy Art - 201 2405 Beacon Avenue, Sidney, BC
8. The Way We See It - 205 2405 Beacon Avenue, Sidney, BC
11. The Art of Don Bastian - 2221 Amherst Avenue, Sidney, BC
12. Marie Sauvage Encaustic - 10301 Bowerbank Road, Sidney, BC
13. Itza Deb Design - 2326 Harbour Road, Sidney, BC
14. Frame One Gallery, 1765 Land's End Road, N Saanich, BC
15. Dernier Cri Jewellery Design - 1260 Land's End Road, N Saanich, BC
16. Helen Rogak Studio - 618 Land's End Road,N. Saanich, BC
17. G. Anderson Woodcarving - 11034 Trillium Place, N.Saanich, BC
18. Stephanie Quainton-Steel - 435 Wain Road, N. Saanich, BC
19. Judy McLaren Studio - 534 Downey Road, N Saanich, BC
20. Harder Bronze Works - 612 Downey Road, N. Saanich, BC
21. Mary Feesey Studio - 889 Dogwood Road, N. Saanich, BC
22. Dragonfly Art Studio - 8080 Thomson Place, Saanichton, BC
24. deVine Wines & Spirits - 6186 Old West Saanich Road, C. Saanich, BC
25A. McTavish Academy of Art - 1720 McTavish Road, N. Saanich, BC
25B. Colin Williams - 1720 McTavish Road, N. Saanich, BC
25C. Lenny deGroot - 1720 McTavish Road, N. Saanich, BC
26. Inga's Studio & Nancy Davis - 2039 Weiler Avenue, Sidney BC
Contact Info: