Saturday May 25, 2013 - Sunday May 26, 2013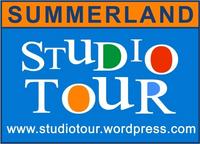 Summerland's Art Studios will be opening their doors to welcome visitors in to see how they make their magic happen.
See a forge where a blacksmith creates beautiful sculptures with red hot iron! How about a photographer's studio, the lights, umbrellas, and amazing cameras, or a clothing designer cutting patterns, sewing with various machines, and printing fabric, making lovely clothing. There are two potters, both are completely different styles and background stories. Of course there are painters, but have you seen how an artist makes a painting using only a knife and paint? Or how a pastel painting is made? Then there is painting with hot wax! How about a 10 foot long sewing machine that sews quilts together in beautiful patterns along with quilting demonstrations. Wood turning on a lathe using local wood is demonstrated right before your eyes. A jewellery maker shows how he makes stones into semi precious gems, and a doll maker sews amazing costumes in miniature sizes and sculpts heads, hands and feet to lovely realism. A sculptor making ravens with hands out of clay, now that's something different!
You can make a day of visiting studios, stop at a winery or have lunch at one of Summerland's restaurants. Bring the kids and learn together about the fascinating world of ART! Ask questions, try your hand at something new. There will be demonstrations, explanations, draw prizes.
more info can be found at... http://stacystudios.wordpress.com/
Participating Members:
Please click on the member name to get more information.
Click on Summerland Studio Tour ... May 25 & 26 2013 - Booklet to print this tour as a PDF file. (Adobe Acrobat reader is required to print this file)


Contact Info: