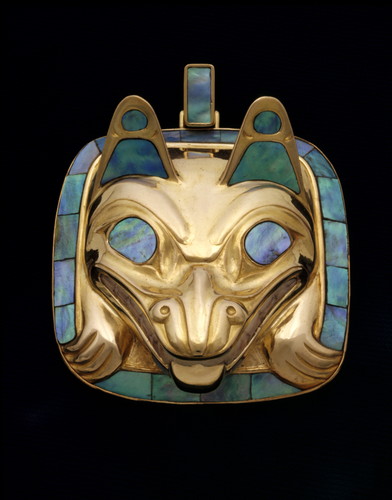 The Bill Reid Gallery of Northwest Coast Art is Vancouver's newest public art gallery, and downtown Vancouver's home for Aboriginal art, culture and learning.



Wolf Pendant 1976 22k Gold, Bill Reid. BRF Coll. Photo Kenji Nagai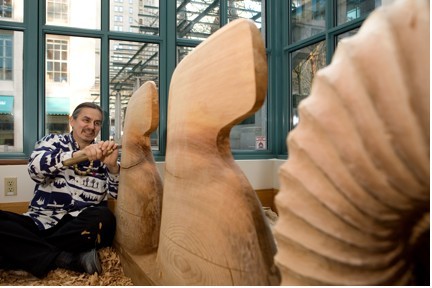 Bill Reid: Master of Haida Art runs through 2008, featuring interactive exhibits that appeal to all ages. Permanent installations include: Restoring Enchantment: Gold and Silver Masterworks by Bill Reid; the monumental bronze sculpture Mythic Messengers, Reid's masterful composition of eleven intertwined figures recounting traditional Haida myths; a monumental cedar pole carved James Hart of Haida Gwaiiin celebration of Reid, who died in 1998. Two of the exhibition spaces feature rotating exhibitions of Northwest Coast art, cultural performances and lectures.

James Hart of Haida Gwaii carving his Celebration of Bill Reid Pole on site. Photo: Felicity Crawshaw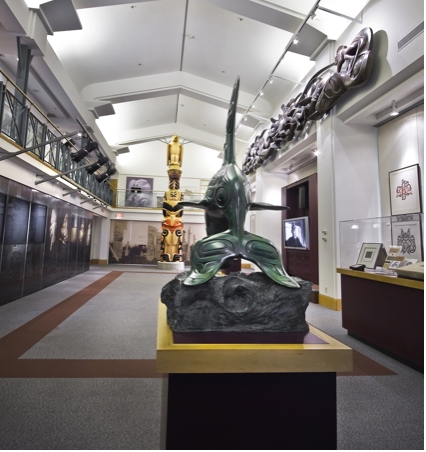 Although the Bill Reid Gallery of Northwest Coast Art is just steps away from one of Vancouver's busiest intersections, Georgia and Burrard, visitors find it amazingly secluded. Once found, there is remarkable peace and tranquillity offered by the enclosed walls and cloister-like setting of the courtyard.




Audain Great Hall. Photo: Trifon Marchovski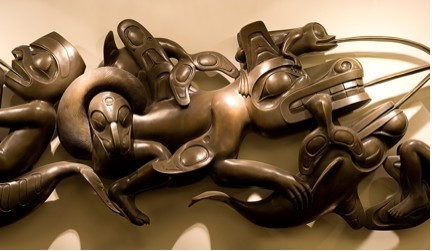 Wheelchair access to the gallery is from Georgia Street, along a path passing between Christ Church Cathedral and Cathedral Place. The 639 Hornby Street stairway entrance is one block from the Vancouver Art Gallery (walking northward on Hornby, across Georgia). Paid parking is available directly below the Gallery, accessible from Hornby Street. Burrard Skytrain Station is nearby.


A section of Bill Reid's monumental bronze piece Mythic Messengers. Photo: Trifon Marchovski
Admission is $10 for adults, and $7 student and seniors. Children 5-17 $5 and children under 5 are admitted free.

Group rates and guided tours are available when booked in advance. Please call 604.682.3455 ext. 222 for more information.

The Kil Sli Gift Shop offers a wide selection of Northwest Coast Native art, books, jewellery and museum-quality collectibles.