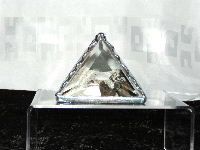 Beveled glass pyramids house local shells, flora, fauna and sand. They make a very popular souvenir. Available in 3" and 4" pyramids or cubes.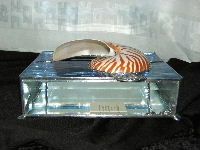 Beautiful 6" x 8" beveled glass box with mirrored bottom. Available in either blue or peach waterglass with a exquisite nautilus shell set in the hinged lid .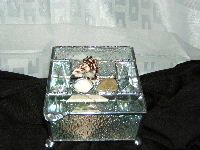 More reflections of the coast are demonstrated in the lid of this 4" x 4" box with a mirrored bottom and hinged lid. Each lid is different with various beach stones, glass, shells, etc.
Beautiful 14" winged platter, kiln fused with bamboo pattern. Also available in a basket weave glass pattern.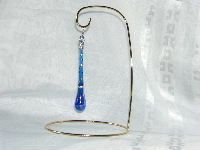 Hand-soldered "Island Raindrops" have been the main focus of Destiny Glass for 14 years, each comes with a "Raindrop" poem. They are available in cobalt, aqua, amythist and peach. 4.5" and 8". Great souvenir!