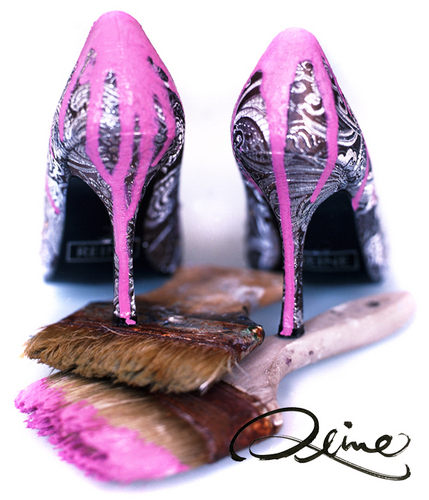 George Bernard Shaw once said, "Life isn't about finding yourself, life is about creating yourself."

As an artist I could not see this to be truer and his insight continues to inspire me to this day.

I remember the first day I began to create. I was in kindergarten class standing in front of an easel with cups of colorful tempura paint and reams of absorbent construction paper. My mom was called into class at the end of the day (she thought I was in trouble) and was shown a classroom filled with paintings. My teacher pointed to them and said, "Reine made ALL of these." My mom understood that I had these capabilities and shrugged it off. My teacher confused, added TODAY! My first exhibition featured one of these early masterpieces and I caught the attention of a buyer. My parents, ecstatic and proud did not authorize the sale.

T.S Elliot once said, " Only those who risk going too far can possibly find out how far they can go."

When I finally reached art school (this was heaven in my mind, due to the unlimited supplies of materials, equipment and inspiration), I metamorphosized from REINE into Artpowerhouse. A nickname given to me because of the sheer amount of work that flew out of me at a powerful pace. I was majoring in photography with a back up in painting and ceramics. Some thought it was impossible. I just found it fun. Attending Emily Carr and the San Francisco Art Institute was a turning point for me. It was a time when I learned that anything I wanted to do or be was as simple as imagining it and by that time my imagination was sharp and unlimited.


I have attended three schools of art and made art my business. I've photographed Elizabeth Taylor, The Queen of Denmark and witnessed a private mass with Pope John Paul II. I've swum with sharks, stingrays and dolphins. I've played with Balinese Elephants, giraffes and was peed on by a lion. I've photographed the paparazzi from the window of the Imperial Suite at the Ritz as they photographed me. I've crashed bikes, dirt bikes, and cars and caught frogs with coffee cans and hockey sticks. I've engaged in pillow fights and fallen off of bar stools. I won an award from Nikon and PDN in NY and donated a painting to the Dali Lama Center for Peace and Education as well as Michael Beckwith at Agape in LA and the City of Vancouver. I've written stories as well as BIG LOVE letters. I've ridden all the rides at 6 Flags Great Adventure in the scorching heat only to pass out in front of an Evian vending machine. I've bet on horses and won. I have laughed so hard I've peed my pants and been so frightened I've done the same. I dance while I paint and laugh myself awake when I'm sleeping. I talk to the birds, sing to the trees and really enjoy cotton candy, chocolate and champagne. I love fashion, living with optimism and the inspiring relationships around me. I shoot in one of two ways, in heels or with bare feet and always with a smile.

Bette Midler once said,"Give a girl the right shoes and shoes and she will conquer the world."