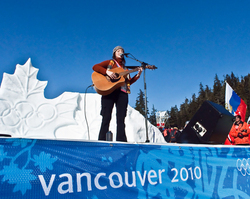 Dana-Marie's cover act is refreshing, playful, lively, creative, quirky, original and mysterious! She rocks the hearts of her listeners and captivates all within hearing distance with her soothing voice and inspiring, deeply genuine performance.

In February 2010 Dana-Marie made headlines by entertaining crowds of thousands at Whistler Olympic Park and performing foreign national anthems in multiple languages for Olympic Hockey teams. She was also invited to give intimate concerts for Olympic Athletes in their private village. For many years Dana-Marie's vibrant stage personality gained increasing recognition as she graced the stages of organized Street Entertainment, Farmer's Markets and Community Festivals throughout Whistler, Squamish and Vancouver. She has shared the bill with Juno Award winners and music veterans such as Barney Bentall, John Bottomley, The Paperboys and many more. In addition to her vast public performance experiences, she is also frequently contracted for private family and corporate functions.

Her unique act caters to all ages and demographics by embracing many styles of music spanning several decades: Rock, Alternative, Oldies, Country, Folk and more. Her repertoire includes such variety as Johnny Cash, Bob Dylan, the Everly Brothers, Queen, Neil Young, Leonard Cohen, Patsy Cline, Bob Marley, Pink Floyd, U2, The Smashing Pumpkins, Alanis Morissette, The Cranberries, Jewel, Tracey Chapman, and more.

Dana-Marie's cover act is perfect for your venue whether you need music front and centre or casually in the background. But be warned, even when providing soothing ambience to your event, she'll be turning heads and delightfully surprising guests with her unique and fresh approach to all music she covers. It's simply inevitable when you invite this true entertainer who has a passion for performance in her heart.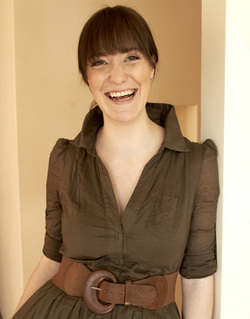 With an extremely diverse repertoire of original music and covers ranging from popular oldies to 90's alternative, Dana-Marie can be of service for a large variety of events and venues. The following is a sample of her repertoire.

•Only You, The Platters
•Under the Boardwalk, The Drifters
•Hooked On A Feeling, B.J. Thomas
•Stayin' Alive, Bee Gees
•Stand By Me, Ben E. King
•Lean On Me, Bill Withers
•Raindrops Are Falling On My Head, BJ Thomas
•One Fine Day, Chiffons
•Let Me Be, Elvis
•Bye Bye Love, The Everly Brothers
•Cathy's Clown, The Everly Brothers
•Dream, Dream, Dream, The Everly Brothers
•Till I kissed Ya, The Everly Brothers
•Walk Right Back, The Everly Brothers
•Moon River, Mercer & Mancini
•Last Kiss, J Frank Wilson And The Cavaliers
•Set Me Free, The Supremes
•Brown Eyed Girl, Van Morrison
•Unchained Melody, The Righteous Brothers
•I Will Survive, Gloria Gaynor
•Blue Moon, The Marcels
•Blowin in the Wind, Bob Dylan
•Get Together, The Youngbloods
•Hallelujah, Leonard Cohen
•Helpless, Neil Young
•Imagine, John Lennon
•Knockin On Heaven's Door, Bob Dylan
•The Show Must Go On, Queen
•Too Much Love Will Kill You, Queen
•Where do the Children Play, Cat Stevens
•Wish You Were Here, Pink Floyd
•Landslide, Stevie Nicks
•No Woman No Cry, Bob Marley
•Crazy, Patsy Cline
•She's Got You, Patsy Cline
•9 to 5, Dolly Parton
•Hurt, Johnny Cash
•Ring of Fire, Johnny Cash
•Walking After Midnight, Patsy Cline
•If You Could Read My Mind, Gordon Lightfoot
•Leaving On a Jetplane, John Denver
•I've been everywhere, Hank Snow
•Somewhere Over The Rainbow, Judy Garland
•Those Were the Days, Mary Hopkins
•Wind Beneath My Wings, Gary Morris
•Better Be Home Soon, Crowded House
•Drive, Incubus
•Forgotten, Avril Lavigne
•Love Song, The Cure
•No Bravery, James Blunt
•Sweet Dreams, Annie Lennox
•You Oughta Know, Alanis
•Zombie, Cranberries
•Bloody Sunday, U2
•Disarm, Smashing Pumpkins
•Revolution, Tracy Chapman
•Empty, Cranberries
•Land, Dido
•Morning Song, Jewel
•Salvation, Cranberries
•Save Me, Aimee Mann
•When You're Gone, Cranberries
•Who Will Save Your Soul, Jewel
•You Were Meant For Me, Jewell
•Oh Canada!, Traditional