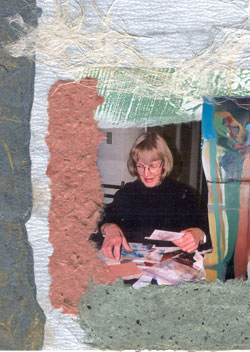 Donna Webb - Artist Statement

I am a graduate of Emily Carr Institute of Art and Design in Vancouver. I use a variety of media - paint, collage, printmaking, and my own handmade paper - in my art practice. The theme apparent in nearly all of my work comes from my close affinity with the natural environment; it is the setting and elements of nature that provide the structure and context for my work. This goes beyond the depiction of what I see in the natural world, and instead, reflects my own experiences of it and my remembered thoughts and feeling in relation to these experiences.
My travels, dream imagery and relationships in my own and other cultures also inform my work. In the past my concern was primarily with representational imagerey but I have moved into abstraction as it seems to reflect more adequately my own deeply personal and emotional responses to my experiences. In this way, my work is evocative rather than descriptive.

Studio visits are welcome by appointment. I teach papermaking one-to-one in my studio.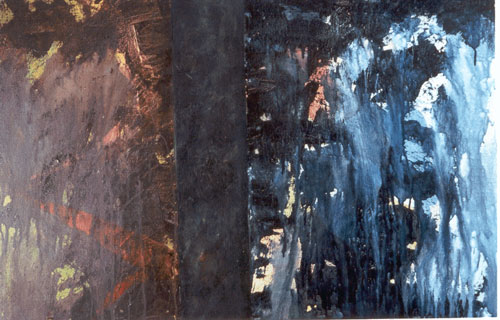 West Coast Abstract Landscape
Acylic on Canvas
24" x 36"
Handmade Paper Collage
20" x 28"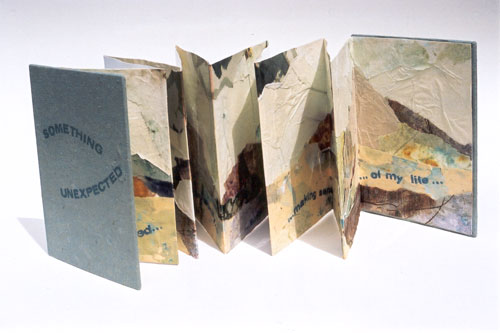 Something Unexpected
Handmade Book with Collage
Cover 4" x 6"
Private Collection destined for McGill University Library Special Collections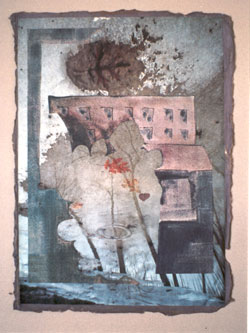 Untitled
Collage on Handmade Paper
6 1/2" x 9 1/2"