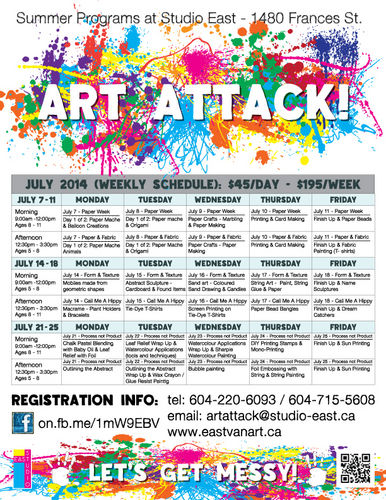 Need some summer artventures and messy fun for your kids this July? Join us at Art Attack!

We have a range of engaging & creative art activities for kids (age groups of 5 – 8 and 8 – 11) planned for this summer!
Instructors:

Anita Bisset has many years experience instructing children in arts and organized day camps, mostly in ceramics as the former owner of a Crankpots Ceramic Studio in White Rock., former instructor with Artist in Residence, Quilchena Elementary School, Continuing Education, Vancouver School Board, and Thompson Community Centre, Richmond. Anita studied at Kwantlen College, Vancouver Academy of Art and with many private artists, and most recently attended VCC Jewellery program, she is also a mom of 2 very creative boys.

Stephanie McCarty is a graduate of Emily Carr University of Art & Design and brings multiple years of experience teaching children between the ages of 3 - 16, both overseas and in Canada. Stephanie has taught for the "Mad Science" after school program and introductory art classes for the Vancouver School Board. Stephanie has a passion for teaching children the foundations of art and design so they can grow and learn to create their own inspired art!

For more info about Art Attack! please contact Stephanie at 604-220-6093, Anita at 604-715-5608 or artattack@studio-east.ca :)
Studio East is located at 1480 Frances Street, Vancouver, BC (near the intersection of McLean Dr. & Frances St.). Classes start at either 9am or 12:30 pm (morning class or afternoon class) on each day between the dates of July 21-25, 2014.

Artistic Endeavors can get messy, so remember to dress your children accordingly (this includes shoes!). We may take trips to nearby Woodland park, either for a quick break or to gather inspiration, so remember to bring a hat and sunscreen. We ask that sunscreen is applied before coming to class. We will be providing juice and a nutritious nut free snack each day of class (please advise us of any allergies), but also recommend that the student bring a water bottle.
Register now at:

http://eastvanart.ca/registration-july-7-11
http://eastvanart.ca/registration-july-14-18-2014
http://eastvanart.ca/registration-july-21-25-2014