Stephanie Imhoff is a Vancouver based artist and photographer who has maintained an interest and passion for the creative arts since childhood. Stephanie's formal education focused on photographic arts at the Emily Carr Institute of Art and Design where she earned a Bachelor of Fine Arts in 2003. While her creative works continue to be based primarily in the photographic medium, the artist incorporates a variety of media techniques and a style developed from her ongoing exploration of diverse artistic influence and experience to present rich visual content saturated with dynamic patterns of emotion, echoes of experience and memory, and aspects of consciousness and reflection.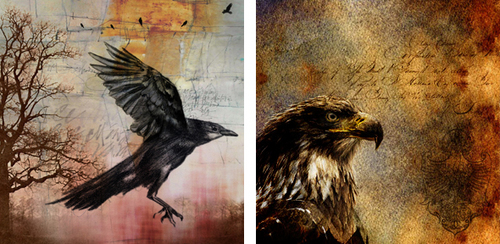 Stephanie Imhoff draws from her extensive experience with digital photographic imaging to create illuminagraphic collages. The tactile quality, sumptuous depth, colour, texture and imagery in these works of art is grown in the process of digitally layering and manipulating a multitude of two and three dimensional artifacts and varied images. Stephanie begins the construction of an image by assembling found and created visual elements such as text, objects, digital images and photographs.
The artist builds pattern, colour, texture and image layers by painting, drawing, photographing and scanning source surfaces and objects. Each layer leads to the next, subsequent layers built upon and affected by each which lie beneath; minimally perceptive layers as integral as those that skim on the visual surface. Both traditional collage techniques, and digital blending strategies, opacity effects and filters are employed to combine often desperate images that alone had no inherent or relative meaning. The artist responds intuitively to the visual serendipity, weaving a fine thread between image surface and content.
Illuminagraphic digital collages are presented as archival, museum quality giclée prints, and are available through private and gallery sales. Samples of recent art works and a list of current and upcoming exhibitions are available on Stephanie's portfolio site www.stephanieimhoff.com.