Windermere Creek B&B Cabins has 5 private log cabins on 107 forested acres. We have hours of walking trails along with creekside hammocks and picnic areas. We are a romantic couples getaway with children 12+ years welcome. These are the "log cabins in the Rockies" that you've dreamed about! All of our cabins have double jacuzzi tubs, fireplaces and the 4 new style cabins have kitchens. Breakfast is included, served either buffet style in the main house, or brought to your cabin.
View of our hoodoos from a look-out bench on one of our many trails. A great spot for a picnic!
We are 15 minutes from Radium or Fairmont, each with their commercial hot springs, and within easy reach of the undeveloped waterfall hot springs at Fairmont and Lussier River Hot Springs, pictured here.
Windermere Creek B&B Cabins are located in the heart of the Windermere Valley. You are just minutes away from the beaches of Lake Windermere and within 15 minutes of twelve 18-hole golf courses! This is the view from the back of our property, a 45 minute hike from your cabin.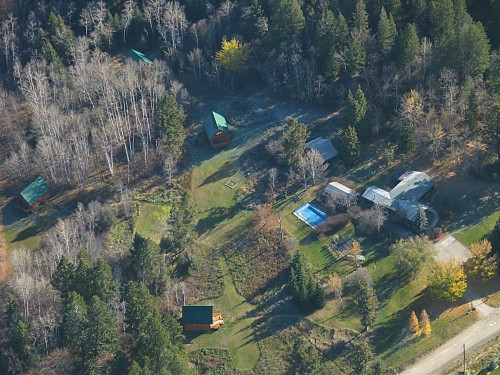 Situated on 107 acres of forested land,Windermere Creek Bed and Breakfast offers an environment of relaxation where you can enjoy the abundant sights and sounds of nature in the Canadian forests. Hundreds of feet between the cabins ensures your privacy!