British Columbia Travel Guide

The unofficial BC Travel & Tourism Guide

Getting in on the best of what is fresh in Armstrong is more than a good idea. The businesses and attraction feature the best Armstrong has to offer, which in turn makes for a wonderful stop over during any BC travel plans into the area. Armstrong is charming, warm and friendly, which of course are all good traits, but even better are the seasonal activities put on in the community (ei. fall fair IPE in Sept and the winter festival in Dec.). Plus Armstrong has interesting perks such as; cheese factory tours daily, llama farms, first class theatre performances, art galleries, guided nature walks, the historic town centre and shops, and regional train tours and the power club (covering the areas engineering history). Much of these activities are on hand and available (seasonal as mentioned) to the public and visitors upon arrival.
Population: 4,300
Highlights:
Armstrong-Spallumcheen Memorial Park orientated for the whole family, playground, skate park and summer time outdoor pool.
Cooke Creek - swimming holes & nature trails, Cooke Creek Rd for hiking trails.
Kidney Lake
Noisy Creek
Mabel Lake
Hunters Range - lakes, birdwatching
Armstrong/Spallumcheen Museum and Art Gallery
Opal Mine - dig your own opal
Asparagus Theatre
Caravan Farm Theatre
Hassen Memorial Arena - public skating, hockey & ice skating
Hayes-Christian Ecological Reserve and the Otter Lake Wildlife Reserve Nature Walks
Climate:
Summer average 25 degrees Celsius
Winter average -2 degrees Celsius (average snow fall of 4.9 inches)
Armstrong Accommodations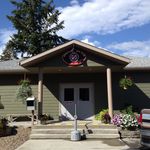 We have all the amenities a Campground can offer.

Armstrong Things to Do