Craigflower Manor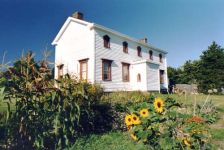 An Original Hudson's Bay Company Farm
This was one of Vancouver Island's first farming communities, established in 1853 along Victoria's Gorge Waterway to meet the Hudson's Bay Company's obligations to Britain to support colonization. On lands purchased from chiefs of one of the indigenous aboriginal people, Kenneth McKenzie oversaw construction of a self-sufficient settlement. The Kosapsom people still harvest shellfish, salmon and herring from the tidal waters that separate the Manor from the Schoolhouse, at the corner of Admirals Road and Craigflower Rd.
BC's oldest schoolhouse, with one classroom and quarters for the schoolmaster, was built by the workers of Craigflower farm for their children in 1855. The Manor, completed in 1856 was the home of the Bailiff of the farm, Kenneth McKenzie, his wife and 8 children.
Craigflower Manor and the Schoolhouse are managed by The Land Conservancy of British Columbia.
The Manor is in the municipality of View Royal at 110 Island Highway.
The Schoolhouse is across the border in the District of Saanich, at 2765 Admirals Rd.
Starting on May 1st and through until September 30th the site will be open to the public on Wednesday through Sunday, from 1 pm to 5 pm. Admission is $5.00 for adults, $3.00 for students and seniors. Children under 12 are free.
During times that the site is not open to the public, special tours may be arranged by contacting the Craigflower Curator.