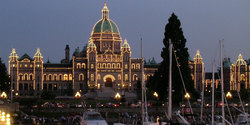 Step back in time to experience a double-decker bus city tour, a romantic horse drawn carriage ride, or walk the restored alleyways of China town to learn about the Chinese contributions building the country's railways, gold rush and the city itself. In an afternoon, you can view one of Canada's largest museum collection of First Nation's totem poles, a world class wax museum, and a discovery centre about the west coast ocean's rich marine life. By foot, indulge in shopping for world famous chocolates, classic clothing, native sweaters & carvings, souvenirs, BC wines, and locally smoked salmon. Those who prefer to catch the fish themselves can schedule daily fishing charters. For a change of perspective, the harbour can be viewed from the water by mini-passenger ferry, an open ocean whale watching adventure, leisurely kayaking, flying in from Vancouver by seaplane or on a dinner cruise atop a forty foot sail boat. The moderate climate permits visitors and residents the opportunity to enjoy sporting activities and renowned golf courses nearly eleven months out of the year. Victoria is truly a gem!
Population: 74,000
Highlights:
The quaint community of James Bay lies directly next to the Inner Harbour of Victoria and holds some of the city's historical treasures. Gorgeous waterfront views and numerous locations to picnic and stroll make this area a hot spot for visitors to the city. Quaint shops, elegant Victorian style homes and lovely parks or waterfront walk ways are a leisurely way to spend the day!

James Bay offers a close look into some of the most beautiful and historical treasures Victoria offers. The Dive Center at Ogden point makes for a highlight amoung divers from around the world and is poised on the famous walkway to the locals known as the Break Water. The Dallas Road scenic route runs from the inner harbour directly infront of the cruise ship terminals, the Break Water, Clover Point, Beacon Hills garden park, Mile O and Ogden Point. This area gives stunning views of the mountain ranges across the Juan de Fuca Strait to Port Angeles. A great way to see this area is on bike, walking the ocean front walkway, by horse drawn carriage, by automobile or sailing along on the shore line on a chartered yacht.

Other interests: The Royal BC Museum, Imax Theatre, whale watching, sailing and dinner cruises, shopping, First Nations Arts and souvenirs, high tea, kayaking or rowing harbour tours, fine dining and delicious traditional treats!
Things To Bring:
Be sure to pack sunglasses, an umbrella and a light sweater there is the chance that the weather turns either way at some point in the day.
History:
The Coast Salish First Nations Tribe, Songish (Songhees) are recognized in the naming of along stretch of walkways and inner harbour apartments facing the downtown core. Their history and artifacts are well documented in the Royal BC Museum.

Climate:
Summer average 19 degrees Celsius
Winter average 7 degrees Celsius
City of Victoria Accommodations
City of Victoria Things to Do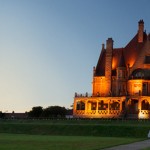 Craigdarroch Castle is a definitively Victorian experience and a shining example of a "bonanza castle" - in walking distance from downtown Victoria's Inner Harbour.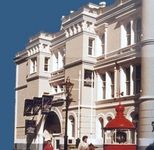 Explorers and Navigation