Emily Carr House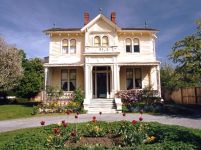 Visit the Home of a Famous Canadian Artist and Author
With an architecture described as both "San Francisco" and "English Gingerbread", all agree that Emily Carr House is on the must see list of Victoria's attractions. Centrally located only four blocks from the Inner Harbour and the Provincial Legislature, the house offers its visitors a chance to gain an insight into Canada's first - and best known - independent artist and writer.
Emily was born here in 1871, a scant six months after British Columbia moved from British colonial status to becoming a province in the world's newest nation. She used her brushes and pens to proclaim her pride in this part of Canada for the rest of her life.
The Emily Carr House is operated by the Clio Arts Associates Ltd.
Admission Rates:
Adult: $ 5.00
Youth: ( 6-18 years ) $ 3.50
Family: $ 15.00
Plus tax where applicable.
Ages five and under free.
Please note admission rates may vary for special events.