Historic Yale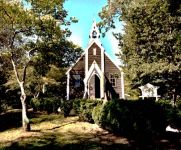 During the second half of the 19th Century, Historic Yale, British Columbia was home to thousands of miners who set out on the Gold Rush Trail, seeking their fortunes in the goldfields of the Cariboo. Yale was the head of navigation for paddlewheel steamers following the Fraser River inland from the coast.
Prospectors and all their supplies literally had to "hit the trail" here, heading north through the spectacular Fraser Canyon on the Cariboo Wagon Road. This engineering marvel, constructed between 1862 and 1865, was a narrow treacherous track that wound along the cliffs of the canyon until the less mountainous terrain of the British Columbia interior was reached. Stagecoaches and freight wagon teams were prepared and refurbished at Yale for the long journey - even camels were tried for a while.
Yale was an important strategic point during construction of Canada's first transcontinental rail route, the Canadian Pacific Railway. One of the greatest engineering challenges of the line had to be faced when Andrew Onderdonk directed the task of creating a rail bed along the sheer canyon walls north of the town.
Today, you can visit this once bustling community and explore its rich history. Take in the Church of St. John the Divine, built in 1863, one of the oldest churches in British Columbia. The Yale Museum has many fascinating displays which are sure to intrigue you.
Where You'll Find Us:
Historic Yale is only a 15 minute drive north from Hope on the Trans-Canada Highway 1. The site is right beside the highway as it goes through Yale. Even if you're travelling via Highway 3 or 5, it's a convenient side trip. If you're visiting Kilby Store & Farm, just stay on Highway 7 until it reaches its junction with Highway 1 on the north side of Hope.
Historic Yale is managed by the Yale and District Historical Society.