Comox Air Force Museum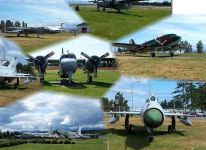 The Comox Air Force Museum displays the heritage of 19 Wing Comox and West Coast Canadian Military Aviation. Located at the historic and operational 19 Wing Comox, our Museum records the history and heritage of all of Canada's Air Forces, from the short-lived Royal Flying Corps of Canada (1917-1918) and Canadian Air Force (1918-1924) through the glory years of the Royal Canadian Air Force (1924-1968), unification of the forces in 1968 and on into the present day. All of this is seen as through a local lens, as our Museum chronicles the history of West Coast military aviation, the history of Comox in particular.
The Museum is proud to host one of the finest aviation libraries in Canada. We also offer a Museum Store and a fine collection of vintage aircraft in our Heritage Air Park. The Air Park is open from May to September, from 10 a.m. until 4 p.m. each day, the Museum is open year round, 10am to 4pm.
Contact Comox Air Force Museum
Contact Name: John Low
Phone: 250-339-8162
Email:
info@comoxairforcemuseum.ca
Website:
www.comoxairforcemuseum.ca

Just click on the following links for more information about nearby communities such as