Helmcken House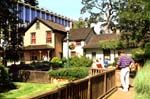 Dr. John Sebastian Helmcken set up house here when in 1852 he married the daughter of Governor Sir James Douglas. Originally built by Helmcken as a three room log house it was expanded as both prosperity and size of family grew. A surgeon with the Hudson's Bay Company, he went on to become a statesman and helped negotiate the entry of British Columbia into the Dominion of Canada as a province.
Now the oldest house in British Columbia on its original site that is open to the public, and surrounded by all the attractions and activity around Victoria's Inner Harbour, Helmcken House offers visitors a fascinating glimpse into the way life was lived over a hundred years ago. One of the most intriguing collections you'll be able to examine at Helmcken House is the good doctor's original 19th Century medical kit.
Helmcken House became part of the Royal BC Museum Corporation on April 1, 2003. Please check the RBCM website for Helmcken House hours and admission information or special events.
Contact Helmcken House
Contact Name: Royal BC Museum
Phone: (250) 356-7226 or toll free 1-888-447-7077
Email:
reception@royalbcmuseum.bc.ca
Website:
www.royalbcmuseum.bc.ca/index_vi.html#rbcmcp

Just click on the following links for more information about nearby communities such as