Victoria Bug Zoo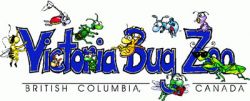 The Victoria Bug Zooâ"¢ is home to some of the worlds most incredible insects and arachnids.
You can find us at 631 Courtney St. in Victoria, British Columbia.
We have a variety of LIVE creatures for your viewing enjoyment - scorpions, tarantulas, mantids, centipedes, Giant stick insects, colorful beetles, Huge grasshoppers and more! Our friendly tour guides will even offer to let you hold some of our multi-legged creatures.
In addition to our fascinating Zoo, we offer a variety of insect-related products in the gift shop. Everything from edible insect snacks and an international assortment of honeys to authentic and artistic insect replicas, toys, books, housewares, and t-shirts.
The Zoo is open daily except Christmas Day and New Years Day.
Hours:
September to Mid-June Monday to Saturday: 9:30 AM to 5:30 PM
Sunday: 11:00 AM to 5:30 PM