Mount Robson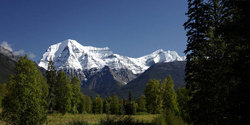 Photo: Peter Reid
As one of the oldest parks in British Columbia, Mountain Robson is home to the Canadian Rocky Mountain range's highest peak at 3954 meters, the head waters of the Fraser River, and one of the few living glaciers - the stunning Berg Glacier.
There are three parks that offer site camping for tents or vehicles from May to September. Mount Robson Provincial Park is a prime destination for adventure seeking climbers, hikers, and outdoor enthusiasts. Wildlife making their home here are also a significant attraction, please be considerate and take out everything you bring into the park.
There is an on site Tourism Information Center - The Mount Robson Park Visitor Centre - to assist travelers with questions and directions within the park.
Park size: over 217,000 hectares