Nazko Lake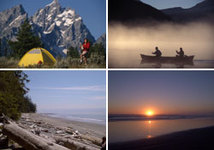 Nazko Lake Provincial Park (12,419 hectares) is situated on the northern part of the Chilcotin Plateau, on the dry and sunny side of the highest of the Coast Mountain peaks. It is an excellent choice for visitors looking for a relatively easy wilderness canoe adventure. The 2-4 day canoe circuit covers about 20 km and includes interconnected lakes: Deerpelt Lake, Nazko Lake, Tanilkul Lake, Nastachi Lake, Tzazati Lake, and Tchusiniltil Lake. The portages are well marked and relatively easy.
Besides canoeing, the lakes provide excellent wildlife viewing and fishing, as well as some cycling and swimming. There is a car-top boat launch on Nazko Lake, where motorboat use is permitted.
The park protects extensive wetlands for moose and aquatic fur- bearers. Additionally, American White Pelicans feed on the lakes within Nazko Lake Park. In the early morning and evening, they can be seen dipping their bills to feed on fish, frogs and salamanders. The Pelican is an endangered species, and the one and only nesting site in British Columbia, situated in the park, is off limits to the public during spring and summer. To the east of the canoe route, the wetlands provide habitat to waterfowl, shorebirds, amphibians and fish.
Camping:
There are two vehicle accessible campsites, at Loomis and Deerpelt Lakes, available on a first-come first-serve basis. These sites are provided with pit toilets. Wilderness walk-in camping is available. Canoeists enter the paddling circuit at Deerpelt Lake, as Loomis Lake is not connected.
Location and access:
Most of these routes are subject to logging truck activity. Use your headlights and drive with caution.
Nazko Lake Park Access: Take Highway 20 west from Williams Lake. Pass through the village of Alexis Creek (111 km from Williams Lake). Bull Canyon Park is 6 km further on. At the top of the hill past this small park, look for the Alexis Lakes Road and turn right. Travel approximately 32 km on the Alexis Lakes Road, then turn left onto the 4600 Road (Clusko-Aneko Forest Service Road). The road to Loomis Lake and the Nazko Lake Canoe Chain is at km 11.5, on the right, just past the 4645 marker sign. Loomis Lake is 11 km from the 4600 Road, and Deerpelt Lake, where the Canoe Chain starts, is about another 2.5 km.
Alternate Route: Travelling west on Highway 20 approximately 67 km west of Williams Lake (or 21 km west of Riske Creek), turn right on the 1300 Road (also called Bush Road or Alex Graham/Raven Lake Forest Service Road). Continue on the 1300 Road for approximately 44 km. Just past the 45 marker sign on the 1300 Road turn left onto the 4600 Road. Travel for 45.5 km. The access road to the Nazko Lake Canoe Chain is on the right, just past the 4645 marker sign. Continue as above.