Top of the World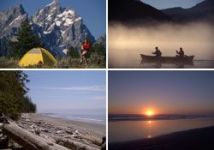 Sitting amongst colourful meadows, and breathing crisp mountain air, the immense wilderness of the Kootenay Ranges of the southern Rocky Mountains fan out before you. To the west, beyond the Columbia River, are the jagged peaks of the Hughes Range, and to the east, are Mount Morro (2,912 m) and the Van Nostrand Range. The higher alpine meadows are flushed with glacier lilies, mountain forget-me-nots and western anemone, while the lower reaches are abundant with globe-flowers, Indian paintbrush, bunchberries and yellow columbines.
With an average elevation above 2200 m, Top of the World Provincial Park can offer a rugged alpine experience, while beneath the dramatic summits, the rock yields to meadows and forests of mid-elevation balsam, Douglas fir and Engelmann spruce; sitka spruce, alder and lodgepole pine fill in the lower reaches and grace the Lussier and Summer Creek drainages and the shores of Fish Lake. After brilliant displays of autumn colour, in the stillness of winter, backcountry skiing and ice fishing round out the park experience. In ancient times, visitors from other parts of BC, as well as Montana and Alberta, would come to the Top of the World to mine Chert, an obsidian-like rock that was traded and used for making tools and weapons. The park is in the traditional territory of the Ktunaxa First Nation.
Wildlife in the park includes moose, elk, mountain goat, white-tailed and mule deer. It is also home to wolverine, bear, marmot, porcupine, and bighorn sheep. The lake has good fishing for cutthroat trout and Dolly Varden, and supports abundant birdlife.
Camping
Camping and hiking are popular activities. A 16 sites lakeside campground is located on Fish Lake, at the end of a well-maintained and moderately easy trail. There is also a 20-person cabin with wood stove and trails leading into the alpine.
Location and access
The park is located in the western most reaches of the Rocky Mountains, 48 km north east of the village of Kimberly and near the airport-serviced city of Cranbrook. Access to the park is good from May to mid November. The road is not plowed.
From the south via Ram Creek: Turn onto Sheep Creek Road .5 km north of Skookumchuck on Highway 93/95. At km 9.6, take the right fork, cross Lussier River and continue across the cattle guard. Turn right at km 27.7, staying on this road till reaching km 52. The trail into the park starts at this point. This is a very rough road, not recommended for low-clearance vehicles.
From the north via Whiteswan Lake: Turn east off of Highway 93/95, 4.5 km south of Canal Flats. At km 21.3 take the fork to the right (Lussier River Junction). At km 29.6, turn right and cross Coyote Creek. Continue straight at km 30.7, staying on the main road till reaching km 52. The trail begins at this point.