Itcha Ilgachu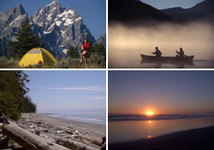 This remote and wild park (111,977 h) is dedicated to protecting alpine environments, grasslands, lakes and wetlands, volcanic formations, and a wide variety of wildlife. Situated in the rain shadow of the Coast Mountains, to the east of Tweedsmuir Provincial Park, the topography and isolation make for an unforgettable wilderness experience.
Used for centuries by aboriginal peoples for hunting, trapping and fishing, today the modern adventurer can move by foot or horseback along undeveloped trails. Elevations reach 2400 meters on these isolated shield volcanoes. Accessible year-round, the park is rich in wildlife, including wolves, cougars, black bear, grizzly bear, mule deer, caribou, moose, mountain goat, and California bighorn sheep, wolverine, otter and bobcat. It protects the largest herd of woodland caribou in southern BC, and provides important calving grounds. The wetlands support numerous species of birds, reptiles and amphibians. Fish habitat is limited by steep terrain, but rainbow trout and bull trout populate Itcha Lake.
Activities include hiking, horseback riding, fishing, hunting, cross country skiing and snowmobiling. There is one designated mountain bike trail.
Camping:
In general, be prepared for wilderness camping. However, there are 2 cabins located near Itcha Lake, each holding about 6 people. Pit toilets are provided at the cabin sites.
Location and access
Located in the Chilcotin Uplands, the closest communities are Anahim Lake and Redstone, while the closest major centres in this un-roaded district are Williams Lake and Quesnel, more than 100 km to the east. The trailhead for this park is reached by traveling about 18 km north of Anahim Lake on Lessard Lake Road, then about 64 km on a gravel road.