Cultus Lake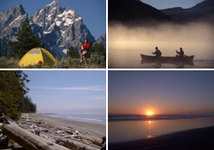 The inviting waters of Cultus Lake are boarded on two sides by Cultus Lake Provincial Park. It is only 1.5 hours east of Vancouver, and even closer to Fraser Valley municipalities. This 2500 h park has rich stands of Douglas fir, broadleaf maple and hemlock rimming the lake and covering the surrounding mountainous terrain. Most of the facilities are on the southeast side of the lake, leaving the northwest shore undeveloped. The park is adjacent to the newly created International Ridge Provincial Park (1900 h), famous for its brilliant autumn displays of color and extensive wilderness. Only two kilometers from the park, the community of Cultus Lake offers numerous services, including boat rentals, stores, restaurants, as well as waterslides and two golf courses.
Activities
The valley can get very warm in summer, making for excellent swimming. Swimming areas are well marked and include wharfs. Waterskiing and jet skiing are very popular on the lake as are kayaking and canoeing (some areas of the lake are off-limits and others have speed restrictions). Windsurfing is also possible. The well-stocked lake produces cutthroat trout, rainbow trout and dolley varden; steelhead and migratory salmon use the nearby waters of Chilliwack River and Chilliwack Lake.
There are five trails that lead through the lush forests of the park, ranging from the easy 30 minute stroll on the Maple Bay Trail to the 20 km Cultus Lake Horse Trail. There are also designated mountain bike and horseback riding trails, as well as two paved boat ramps and storage area for trailers.
Wildlife includes numerous species of birds, blacktail dear, beaver, coyote and bear. Like most wilderness areas in British Columbia, cougar will also move through this park. Teapot Hill (5 km hike) provides a great lookout for wildlife viewing.
Camping
The park is served by four campsites that together with group sites provide over 290 sites. Services include showers, sani-station, flush toilets, drinking water, firewood sales, and facilities for the disabled. Depending on the time of year, most sites are available through a reservation system. Visit www.discovercamping.ca to reserve and get detailed information about camping in the park.
Access
Cultus Lake Provincial Park is located 11 km southwest of Chilliwack (100 km east of Vancouver). Access to the park is off Highway 1 at the Yarrow or Sardis exits. It is 16 km to the park entrance from Yarrow and 10 km from Sardis via the Columbia Valley Highway, which bisects the southeast section of the park.