Edge Hills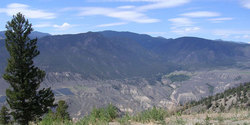 Edge Hills Provincial Park protects panoramic river canyon vistas, gentle forested slopes, and grassy benchlands and ravines on the eastern slope of the Fraser River.
A perfect place for spectacular views, hiking, horseback riding and wildlife viewing. It is is an undeveloped wilderness park with no facilities. Wilderness, backcountry or walk-in camping is allowed, but no facilities are provided.
The park is located approximately 170 km south of Williams Lake in south central BC. It is situated just west of Clinton, and north of Lillooet. The park can be accessed via Kelly Lake Road off Highway 97 and is adjacent to Marble Range Provincial Park; the Jesmond Road corridor separates the two parks. The closest communities, towns and cities are Clinton, 100 Mile House and Ashcroft.
Contact Edge Hills
Website:
www.env.gov.bc.ca/bcparks/explore/parkpgs/edge.html

Just click on the following links for more information about nearby communities such as