French Beach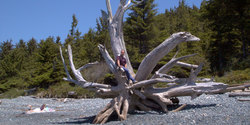 French Beach Provincial Park is 59 hectacres of Vancouver Island west coast wilderness, situated on the Strait of Juan de Fuca half way between Sooke and Jordan River.
This park is a great place for a family to spend the day. A full playground will entertain the kids, as will playing frisbee or volleyball on the large lawns. Picnic tables and self contained fire pits located in various places around the park provide an opportunity to have a barbeque or marshmellow roast (unless otherwise posted due to fire hazard).
The beach itself is a wonder. With 1,600 meters of beach front, this park provides a fantastic venue to enjoy the Pacific Ocean. Sandy patches merge into pebbles, and driftwood of all shapes and sizes litters the beach. Here, sandcastle enthusiasts, or kids, can build their creations. Walk towards the right (or north west) and find the hidden treasures of the tide pools. Watch the sea anemones eat - this is most interesting, or watch the waves crash in against the rocks. Also note: due to strong undertow currents it is strong recommended that you DO NOT go swimming in the ocean at this location, however you can with some caution go wading.
French Beach is also a great place for observing Vancouver Island wildlife. Deer and ground squirrels inhabit this area of Vancouver Island. Seabirds, bald eagles and ospreys drift on warm air currents above the beach. Otters, seals and sea lions can also be seen playing offshore, and whales love to visit in the summer.
Walking trails wind their way through the second-growth forests lining the shores of French Beach, and provide an easy paced stroll through a natural west coast setting.
A 69 site campground at French Beach is open year round; however, there are not electrical hookups nor showers at this campground.