British Columbia Travel Guide

The unofficial BC Travel & Tourism Guide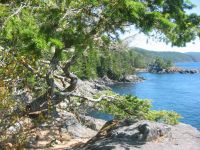 Sooke is close enough to Victoria to easily drive to and return on the same day, yet in feel, it is a world away. Situated on the cusp of two quite different climactic zones (the dryer, warmer region within the rain shadow of the Olympic Mountains and the moist open coast of Vancouver Island), it represents more than any other place in the province a gateway to the west coast. Historically a logging and fishing community, the small town (pop approx 10,000) is now a bedroom community for Victoria, a retirement village, a sport fishing destination and a nature lover's mecca.


The scenic drive from Victoria passes through fields, deep forests, rocky dry bluffs, and ocean shore. Sooke is the beginning of the West Coast Highway, a twisty spectacular drive that terminates in the small town of Port Renfrew.

Sooke basin is a superb anchorage. The large natural harbour is protected at its entrance by a flat sandy ribbon of land called Whiffen Spit (located at the end of Whiffen Spit Road just off the main Sooke Road). Across the harbour looking south from the town is the rural community of East Sooke and the western entrance to East Sooke Park.

Cyclists enjoy riding from Victoria to Sooke along the old railway line, now a hiking and biking trail, called 'the Galloping Goose'. Kayakers will love paddling Sooke harbour and exploring the coastline beyond. Some of the best freshwater swimming on Vancouver Island is to be found at the Sooke potholes, a series of deep gravel-bottomed pools with rock walls that are connected by faster flowing sections of the Sooke River. Sooke is growing in popularity with mountain bikers. The town is not far from the famous surfer's destinations of Jordan River and Sombrio Beach as well as windsurfing/kite surfing beaches.

The town has lots of shops and a variety of restaurants, including cafes, pubs and high-end dining.

There are many B&B's (off the Sooke highway, within the town, and beyond, on the west coast) as well as campsites and boat launches.

Sooke is well known as a community of artists and has hosted a Fine Arts Festival for 25 years.

The District of Sooke is a short 35-minute drive from downtown Victoria.
Sooke Accommodations
Sooke Things to Do
Explore the heritage, culture and natural history of the southwest coast while enjoying the scenic beauty along Highway 14 from Sooke to Port Renfrew