British Columbia Travel Guide

The unofficial BC Travel & Tourism Guide

Sooke Potholes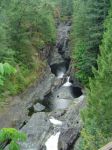 Directions to Potholes.
Follow Hwy 14 North, towards Sooke, BC. Just past Edward Milne School, turn right onto Sooke River Rd. Stay on this road for 15 minutes until it ends. There you will reach Sooke Potholes Provincial Park. CRD Parks and TLC are working to have this newly acquired Regional Park operational for late spring.
Parking available at the Provincial site and further parking will be available late spring.
Contact Sooke Potholes
Website:
www.crd.bc.ca/parks-recreation-culture/parks-trails/find-park-trail/sooke-potholes

Just click on the following links for more information about nearby communities such as