Stamp River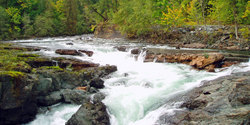 Located 14 km northwest of Port Alberni, off Hwy 4 on Beaver Creek Road Stamp River Provincial Park was established when Stamp Falls and Stamp River Money's Pool Parks were amalgamated. Relax by the waterfall at this peaceful riverside park or explore this 327 hectare park hiking on the trails that weave their way through the lush forest, past waterfalls and river rapids. One of the park's main attractions is the annual run of thousands of Pacific salmon Lookout points along the river offer excellent views of the salmon fighting their way up the falls and fish ladders.
Park Size: 327 hectares
Contact Stamp River
Contact Name: R.L.C. Enterprize Ltd.
Phone: (250) 474-1336
Email:
office@rlcparks.ca
Website:
www.env.gov.bc.ca/bcparks/explore/parkpgs/stamp.html#parkmap

Just click on the following links for more information about nearby communities such as