Tribune Bay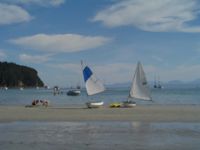 Paradise is often depicted as a palm fringed, white sand beach against a backdrop where a sparkling blue sea meets a clear blue sky. Remove the palm trees and this scene could well be Tribune Bay Provincial Park. Boasting more than 1000 meters of fine white sand beach on Hornby Island, the bay is considered to be one of the warmest salt water swimming areas in BC.
Take the Denman Island ferry from Buckley Bay, Hwy 19 on Vancouver Island; follow Denman Road to the Hornby Island ferry terminal. Follow the main road to the Hornby Island Co-op; turn left following Central Road to the entrance to the park.
Contact Tribune Bay
Contact Name: R.L.C. Enterprize Ltd.
Phone: (250) 474-1336
Email:
office@rlcparks.ca
Website:
www.env.gov.bc.ca/bcparks/explore/parkpgs/tribune/

Just click on the following links for more information about nearby communities such as