British Columbia Travel Guide

The unofficial BC Travel & Tourism Guide

Planning a trip to the Greater Victoria area, almost always includes a detour up the Saanich Peninsula and through the Saanichton Communities. With access to the airport and ferry services on and off Vancouver Island's southern end it is generally difficult to avoid this main vain. Around the western side of the peninsula's northern tip is a cycling and vehicle day trip that gives visitors a eye full of vineyards, ocean front homes, parks, meandering hobby farms and views across to the Malahat.


Quaint town shops, elegant or casual dining, marinas, and variety of services await. Crossing vehicle ferry service to Mill Bay further along Vancouver Island and local pubs and lodges sit along the bays water edge.

The moorage and marinas present the perfect pit stop along the coastal shores of the peninsula while yachtsmen and pleasure boaters circumnavigate Vancouver Islands intriguing inlets and harbours.

Population: 16,018

Highlights:
World-famous Gardens
Fresh Seasonal Markets
Vineyards
Marina services
Biking and hiking trails
International Airport
Mill Bay Vehicle Ferry Service

Climate:
Summer average 20 degrees Celsius
Winter average 5 degrees Celsius
Brentwood Bay Accommodations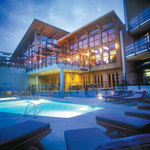 Brentwood Bay Resort & Spa We've discovered that understated elegance and discerning service are essential. Simple, intimate, involving. It's all about an appetite for new experiences.

Brentwood Bay Things to Do